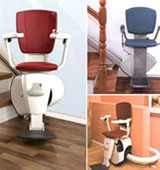 How to Install A Stair Lift
Installing a stair lift is not actually a difficult task, but before you attempt to install a stair lift on your own you should check and see if your area requires any building permits or regulates who may do work on homes. Often time's areas only allow licensed contracts to make any additions to homes that require building permits. Calling your city or township hall will help you find out the laws of your area.

The next thing you will want to check is if the manufacturer requires only certified technicians or licensed contractors to do the installation. Many manufacturers of stair lifts will consider the warranty and service plan void if installation is done by a person who is not authorized to do so.

The next thing you will want to do before attempting the installation of a stair lift is to read the installation guide. You will want to make sure you have the proper tools for the installation as well as the required manpower and strength to do so. Botching the installation of a brand new stair lift system can be an expensive mistake so it's important that you do so properly.


Can You Install A Stair Lift On Your Own


If you really believe you can install the stair lift on your own than you should follow these steps very carefully to make sure your installation proceeds smoothly and painlessly.

• Read the installation guide of your stair lift again making sure you understand every step.

• Verify that all the parts of the stair lift are present and in a place where they can't roll away from you. Put smaller parts in cups or bins to help keep track of them.

• Verify that you have all the tools necessary for the installation of the stair lift. Using improper tools can damage the stair lift and cause you injury – or may even cause injury of the person using the stair lift.

• Follow the instructions step by step making sure to follow each instruction exactly.

• When you are done with the installation put something heavy on the stair lift and test it before it gets its first human rider.

• Clean up your mess – installing a stair lift often involves opening many packages which can leave a mess. Clean up after yourself.

If you follow the proper instructions, have the proper tools and are patient with the installation of a new stair lift system your installation process should go very smooth and painless. If you encounter any problems double check the procedures you performed before the step you are at. Its important that you do not force any part of the stair lift into place as this may irreversibly damage your stair lift.

If you feel that you cannot install the stair lift on your own you should contact the manufacturer for information on companies that can install stair lifts in your area. It's important that it's done right, so have a professional do the installation is the typically the right way to go.



↑ Top