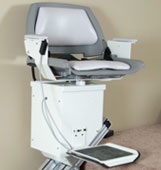 Ameriglide Stairlifts
Before starting to install Ameriglide stairlifts, there are a number of pre installation checks to carry out. Understanding what you will need to do before deciding to buy Ameriglide stairlifts will be essential to you in order to understand whether you can install Ameriglide stairlifts, or will need to call in professional assistance. There are particular requirements that need to be satisfied if you are planning to install Ameriglide stairlifts in public places that are not compulsory in private residences.


Pre installation checks


When the Ameriglide stairlifts arrive check the packaging carefully. If there is any visible damage, point this out to the freight carrier and make sure that the damage is noted. This is so that you can file a claim for replacements in the event of damage to the contents. The instructions for the installation will show which side of the stairs the Ameriglide stairlifts will need to be fitted; these details can be found on the instructions for the seat and chassis boxes. Standing at the bottom of the stairs you can check that you have the correct hand unit, too.

Ameriglide stairlifts require a correctly grounded 110-volt 15 amp outlet that should be no more than 10 feet away from the top of the stairlift track. If you are planning to install Ameriglide stairlifts in public locations you will need to make sure you have received the required public use certificates before making the stairlifts available to the public. Ameriglide stairlifts are designed to be installed on wooden stairs. Should your stairs be made of another material, you should get in contact with the dealer you are buying the Ameriglide stairlifts from to discuss the necessary installation requirements.

The stairlift track will continue 6 inches beyond the lip of the top step, so if there is a door at the top of the stair, this will require modification. Once again, your Ameriglide Stairlifts dealer will be able to advise you what to do. At any point, if you feel uncertain about your ability to complete the stairlift installation, visit the web site where you can find lists of certified Ameriglide Stairlifts' installers.


Required certifications


There are two key standards that need to be taken into account that affect both the manufacture and installation of Ameriglide stairlifts. Ameriglide stairlifts comply with the necessary ETL listings and also are completely compliant to the latest ASME (American Society of Mechanical Engineering) standards category A18.1. In a public installation, the requirements of ASME 4.1.1 must be adhered to. The two key requirements are that the points of egress at the top and bottom of the stair rails must offer sufficient open space for loading, unloading and maneuvering, as required according to the regulations.

ASME clause 4.1.2 details the structure on which the equipment can be installed; ideally, the structure should be wood but details on installation requirements on metal and concrete stairs are covered in this clause. This clause also covers the maximum loads that can be carried on the stairlifts, dependent on the material the stairs are made of. ASME clause 4.7.2 defines the maximum incline angle that is permitted. Essentially, no stairlift can be installed with an incline of greater than 45®.


↑ Top