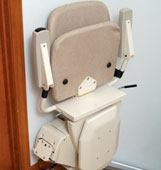 Harmar Stairlifts
Harmar stairlifts are available around the world from a network of authorized dealerships that are fully trained in the products; not only with sales and marketing information, but also regarding customer design and installation. Harmar stairlifts are part of Harmers wider range of mobility products that include vehicle mobility products, lifts and ramps. Harmar points to the "Harmar difference" that is based on their mission statement where they state: they look to help people increase their mobility, gain greater independence and gain a greater quality of life. In design, they focus on making their products simpler, while using stronger and lighter components; Harmar products are also designed to be easy to use.


The Harmar team


Harmar considers their team to not only include their own staff, but also they consider their authorized dealerships to be part of their greater family. Harmar is an American company and its hardworking employees welcome and encourage all the staff in the authorized dealerships to provide input and feedback from the field. This information can be used to affect product development and lead to product improvements. As Harmar points out, this is a never ending crusade in the pursuit of excellence. Harmar strives to produce the best products in their class and in their industry. The company puts great emphasis on offering top quality customer support and after sales service. By doing so, both dealerships and customers should have the highest level of satisfaction.


Innovation is the key


Harmar stairlifts have always been designed with innovation in mind, right from the start of the company's operation. Harmar concentrates on mobility and accessibility and looks to adopt innovations developed in certain product lines into other products; where their application could be of benefit. Harmar products are characterized by a high level of design engineering, streamlined simplicity and excellent price performance and functionality. Stairlifts need to be strong and safe and Harmar stairlifts are designed with safety and quality as key design features.


No compromise on quality


Durability control is vitally important and all Harmar stairlift products are tested rigorously before they are moved to the production line. Every new design of Harmar stairlifts is tested at a full weight load for over 10,000 stairlift movements or cycles. The objective of these extensive testing cycles is to be doubly sure that the new stairlift design is up to the job and will not give its users any difficulties. Once the production line is rolling, every finished product (be it a stairlift or a premium vehicle lift) is tested loaded to full capacity before going to the dispatch department.

Harmar states that their products rarely come back to the production plant for repairs. This fact can be backed up by the high price Harmar stairlifts demand in the second hand market. Harmar's authorized dealers will often be able to help you by dismantling the second hand stairlift you have bought, giving it a full maintenance check and then installing it in your home. You can also take out a maintenance contract to ensure should anything need attention; you will be able to call the authorized dealership to send out a trained technician to assist you.


↑ Top