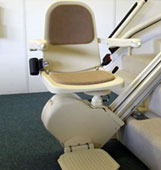 Brooks Stairlifts
Brooks Stairlifts is an established company that has been manufacturing and providing lifts for over 30 years. This family-owned company is committed to quality and style. They have a deep personal understanding of the issues affecting mobility, and this ensures their commitment to providing the very best in stairlifts.

At Brooks Stairlifts, you will not be presented with a huge array of choices and designs. In fact, you will find a simple solution that fits most people's needs and budgets. Brooks stairlifts are simple stairlifts that run up a straight flight of stairs. They consist of a rail to run on, a carriage and a seat. Thinking about it in simple terms, this is all you need. This also keeps the costs down to a minimum. However, do not be deceived by this simplicity; Brooks stairlifts are strong, silent and easy to use. In addition, they are usually fixed and ready to use within an hour.


How are stairlifts installed?


Brooks Stairlifts, like many other companies, survey the area where the stairlift is required and assess the needs of the person who will be using the stairlift. The stairlift is attached to the staircase, and not the wall, so the stairs have to be in good sound condition. There should also be enough room at the top and bottom of the stairs for the stairlift user to get on and off the stairlift safely. The size of your stairs may not matter, but if they are too narrow you may have problems installing any stairlift. You will be advised of the suitability when the survey is undertaken.


Can Brooks stairlifts help with pain control?


Brooks Stairlifts offers stairlifts that are quiet and, more importantly for some, jerk-free. This is a very thoughtful solution as many people who have problems with mobility can be affected by pain. Any sudden movements or jerks can exacerbate that pain and although it is only a relatively short ride to the top or bottom of stairs, this may be enough to start a pain cycle for a number of hours. The smooth transition of Brooks stairlifts allows the user to experience a soft start and stop and a smooth ride between the two.


What happens if the electricity supply is suddenly interrupted?


One of the great things about Brooks stairlifts is that they are battery-operated and do not rely on the main electricity supply. Therefore, if there is an interruption to your power supply, you will not be stranded upstairs or downstairs. Clearly, for some stairlifts it is important to ensure the batteries are always charged. If you forget to charge the batteries then there could be problems; and although some models will make an audible sound or flash lights to alert you to this problem, this may be too late if you desperately need to go upstairs for something. Fortunately, this is not a problem you will encounter with Brooks stairlifts. Their stairlifts are operated on DC power packs and these re-charge themselves after each trip, without you having to remember to do anything. The whole process is simply automation at its best.


↑ Top