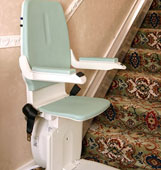 Bison Stairlifts
Bison stairlifts are known throughout the world for their fine quality and trouble-free usage over a number of years. Until recently, Bison stairlifts did not include a solution for curved stairways; but with the introduction of the Bison 80, Bison Stairlifts' range can be considered complete. The Bison 80 is a curved stairlift that is DC powered. Each Bison 80 stairlift is individually designed by a Bison trained professional to fit the requirements of your stairway. Bison stairlifts come with a series of standard options, as well as optional additional features; regardless of your particular requirements, Bison stairlifts can be customized to satisfy them.


Features of Bison 80


The first thing you will notice about an installed Bison is its soft start and stop mechanism. Before deciding on this stairlift get a demonstration at the showroom; you will immediately notice the total lack of a jerking movement. The ride quality is remarkably smooth thanks to the quality of the stairlift track. When not in use, the Bison 80 folds into compact stowaway dimensions. Motion is controlled by an easy access joystick or optionally by a remote control system. The power requirements are for a low voltage supply that charges the maintenance free 24v rechargeable batteries; this means the Bison 80 can continue operation even during a power cut.

The edges of the Bison 80 are sensitive, so should it encounter an obstruction, it will immediately stop moving until the problem is resolved. Installation is quick and the Bison 80 can be installed and operational within a few hours. Allow about 2 to 4 weeks for delivery and check with your authorized Bison retailer for details. Remember that each Bison 80 is built to match the requirements of your stairway, so it pays to be patient. The Bison 80 comes with a digital display that will advise you about the stairlift status and give useful diagnostics information if there are any defects. This information can help the technician that is called out in preparing to be ready to deal with any problems. The Bison 80 has a capacity of up to 19 stone or 120kgs. The high quality custom made track is fitted securely to the floor and stairs in your home.


Designed for curved stairs


Stairlift experts have recognized that this addition to the Bison Stairlifts' range is a major step forward in comfort and reliability. Its design has been influenced by, and incorporates, many of the best features to be found in Bison straight stairlifts. The Bison 80 comes with a range of standard as well as optional components. One of the core reasons for the success of this design is the use of the Bison's modular rail design that allows its installation in practically any curved stairway environment.

With ease of use and user comfort in mind, the Bison 80 has been designed to be able to be used even in very narrow stairways. The rocker switch on the arm rest makes operation extremely convenient and easy; in addition, the stairlift can be controlled from a remote.


↑ Top