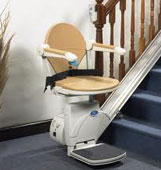 Sterling Stairlifts
If you find it difficult to go up and down the stairs every day, you are not alone. Every year, thousands of individuals get stranded thinking of the best solution to the cumbersome process of climbing up and down the stairways. Many people opt to move into other houses or just occupy the lower parts of their houses. These options do not work as effectively as a stairlift does. A stairlift makes going up and down the stairways a mere glide. Sterling stairlifts are among the many stairlifts that provide a convenient, comfortable and safe alternative to taking the stairs.

Sterling stairlifts are manufactured by Handicare. This is a company concerned with offering the most effective solutions and support to enhance the independence of the disabled and elderly people as well as improve the convenience of the people taking care of them. All in all, Sterling stairlifts are meant to offer a safe and reliable way of overcoming the difficulty of climbing stairs.


How to get Sterling stairlifts


Sterling stairlifts can be bought from any of the dealers and manufacturers of these stairlifts. However, the most convenient place to shop for these stairlifts would be the internet. There are numerous websites which will give you tips and direct you to the dealers.

When you have decided to buy a stairlift and you opt to try out the sterling stairlifts, you should first shop around for the dealers and manufacturers of these lifts. It is best if you look for websites with information on these stairlifts. You can fill a form online that will enable the site to mail you a copy of a directory with all the types of sterling stairlifts, how much each costs and where to find them. Your information will not be passed to a third party unless you ask them to share it with one of the dealers. From there, you can visit the dealer and buy the stairlift you had chosen and have it installed in your house.


Types of Sterling stairlifts


Sterling stairlifts come in two distinct types; straight and curved stairlifts. These two types come in various models with unique features. The most common models of sterling stairlifts are:

• Sterling Simplicity straight stairlifts
• Sterling Simplicity+ straight stairlifts
• Sterling 1000 straight stairlifts
• Sterling 2000 curved stairlifts.

All these models are made to ease the burden of climbing stairs. They all have unique features that make them convenient, safe and comfortable to all users.


The benefits of using Sterling stairlifts


There are numerous benefits that an individual can get from using Sterling stairlifts. These lifts are designed with the user's welfare in mind. Therefore, they are professionally made to best suit the user. They are also very easy to use thus minimizing any complications. You just have to press or hold the toggle in the direction you want to go and the stairlift will gently and smoothly take you there. Sterling stairlifts also have powered swivel seats and powered folding foot plate which makes using these stairlifts much easier.


↑ Top