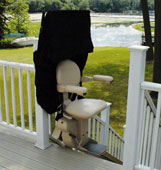 Outside Stair Lifts
Many people know that stair lifts can be installed inside their homes, but did you know that they can be put in on the outside as well? Some people do not have room for stair lifts in their houses, or for some other reason find that installing a stair lift outside is the best choice for them.


Durability of Outside Stair Lifts


One of the main questions people ask about these kinds of lift is how they will last in the elements, being exposed to things like rain, snow, sleet, and cold. Will their materials hold up? Will they be sturdy? Well the answer to both is a resounding yes. Outside stair lifts are built for durability and built to last. They also are very safe and easy to operate.

If you have a porch or a deck, an outside stair lift will help you negotiate the stairs on it with ease. If you have another property like a vacation home or a cabin, an outside stair lift would go very well there, and enable you to enjoy all the wonderful aspects of outdoor living just like other people.

There are special paints used on the metal of the outside stair lifts that prevent rusting. This will prevent the elements from wearing down the metal on your lift. Also, most outside chair lifts have covers that you can put on them to give them extra protection and coverage.


Outside Stair Lifts Features


Most outside stair lifts have all the features you would find in indoor stair lifts, with the added benefit of being much more durable and able to withstand all kinds of precipitation and exposure. They have comfortable padded seats, and controls that are easy and instinctive to use.

Many of the seat cushions, for example, are made of marine-grade vinyl – which is the same kind of vinyl used in outdoor boats. Those can really stand the test of time. Many of them are built to withstand extreme temperatures, from as low as 0 degrees Fahrenheit to as high as 125 degrees Fahrenheit.

Just like the indoor models, they have technologically advanced gear systems, and are fairly compact – enough so that everyone else who uses that particular staircase is able to go up and down without running into the lift or its parts. The footrest, seat, and arms can flip or fold up to make it even more discreet and convenient.

You will also have the option of choosing one that has a seat that can swivel around, or one that remains stationary, depending on your preference. You can also get a model that allows you to adjust the seat height to fit your frame, which increases its comfort factor.

One of the nicest things ab9out outdoor stair lifts is that since they no longer run on old-fashioned belt or cable systems, the need for maintenance is greatly reduced. You will not have to worry about having to lubricate the outdoor stair lift, or be concerned that the elements will cause the lubrication to leach out quickly.


↑ Top