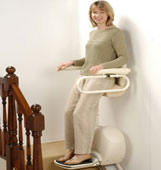 Perching Stair Lifts
These days many people are able to live more independently even if they have problems with mobility. One of the ways this is done is through the use of a stair lift. Having a stair lift in your home can make the difference sometimes between being able to live at home or having to move to a care facility. They can be a great benefit to quality of life for those who are partially disabled or elderly.

A perching stair lift is kind of in the middle between a sitting stair lift and a standing stair lift. With a perching stair lift, you "perch" on a seat as you travel up and down the stairs to and from your destination. There is a folding seat that comes down to allow you to sit in it.


Why Use Perching Stair Lifts?


A perching stair lift is ideal for people who need help getting up and down stairs but are unable to walk to get there. The design is very simple and the apparatus does not take up a lot of room. This is perfect for people who have staircases that are too narrow for a larger, more conventional type of seated lift.

Also, many people, often due to arthritis, have difficulty in bending their knees. Because of the design of the perching stair lift, it can be used in a way that puts much less pressure and strain on the knees. Also if you have limited movement of you're the ball and socket joints in your hip, this can help as well.

Because you are not completely in a standing position, but neither are you totally in a sitting position, the perching stair lift will benefit you. When flexibility is an issue, you don't want to use something that requires a lot of bending to get into and out of it.

Once you get yourself in to a perching stair lift, you can engage the controls to move you up or down, depending on where you want to go. Many perching stair lifts are adjustable for height so that you can make sure that the perching seat and arm handles are exactly to your specifications.

Most of the perching stair lifts are quite comfortable. They have comfortable cushions so that you won't have to worry about a relative bruising themselves as they use it. Also many perching stair lifts have safety features that are important. They can have safety belts that are good for securing you in them as you move. They also have sensors that are able to detect when there is an obstacle in the way. They will stop if they sense one, and you will be kept safe.

All in all, having a perching stair lift is a tremendous assistance to a person's quality of life. It is so much better to be able to do things yourself, and go where you want to go, without having to rely on others. It's just nice to have the option to move yourself where you want to go.


↑ Top