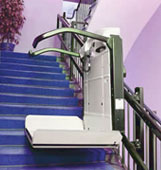 Wheelchair Platform Stair Lifts
Stair lifts are an essential part of helping people gain back the mobility that they no longer have and allowing them access to stairs in a way that works for them. Whether you are disabled or elderly, or know someone who is, stair lifts can be a real gift, and wheelchair platform stair lifts are a real boon for those needing to get up and down while in a wheelchair.

Wheelchair platform stair lifts are stair lifts that enable anyone in a wheelchair to go up and down stairs without having to get out of their wheelchair. This is crucial, as there is tremendous hassle associated with having to get out of a wheelchair, assuming that is even possible for some. Some elderly people do not have the strength to get themselves out of a wheelchair and need help.


Why Use Wheelchair Platform Stair Lifts


Sometimes the top of the stairs seems like Mars to people. It can seem like the furthest planet in the universe to someone in a wheelchair. What we take for granted – being able to quickly go up and down stairs – is something that can completely stall them. Five seconds to us is like going to Rome for them.

This is why the wheelchair platform stair lift is essential for anyone experiencing different mobility issues in a wheelchair or someone who is elderly. It gives them back the access to other places that people who are not in wheelchairs take for granted.


How Wheelchair Platform Stair Lifts Work


How does it work? The best thing about these types of stair lifts is that they are so easy to work. A wheelchair platform stair lift is just that – a platform. It is like an extension of the floor. Simply wheel your wheelchair onto the platform, strap in, and away you go.

Many wheelchair stair lifts are able to be folded away so that they don't block the stairs. You can take the platform part and tuck it away straight up on the side so that it takes up almost no room. This process has been made very simple and easy so that the person in the wheelchair does not have to exert any strain especially.

Many of these types of lifts also have variable speeds, so that you have the option of going slower or faster, depending on what feels comfortable for you. Some people like to go faster, and some are just more comfortable going slower and being able to take their time. This way you can determine the speed that works best for you.

You can have the option of traveling on either the inside or outside radius of the stairway, depending on which you prefer. The designs are attractive and use a minimum of components and parts so that the stair lift doesn't take up your entire stairway. In fact, the design is very minimal and not in the least overpowering to any décor.

The control panel is usually very easy to operate too, so that it is very easy to learn and use. Wheelchair stair lifts have really come a long way.

↑ Top