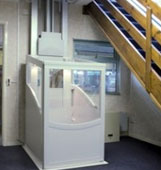 Side Hung Stair Lifts
Whether you have limited mobility through disability or being elderly, stair lifts are a tremendous help in getting from place to place. Old models of stair lifts from years ago tended to be clunky, unreliable, and wouldn't even work when the power went out. Today, so much has changed in the world of stair lifts.

There are many different kinds and styles of stair lifts, depending on what would best suit a person's needs for traveling up and down stairs. A side hung stair lift is ideal for someone who has a very limited amount of space in their home, but still needs a mechanized system to help them get around.

A side hung stair lift travels up and down, much like an elevator. The beauty of this style of lift is that it can have tracks that are at right angles, and help you avoid it being installed around windows and other obstacles.


Features of Side Hung Stair Lifts


Many side lifts have clear paneling that you can see out of. This enables you to orient yourself better as you are traveling on it, and is also a boon for people who are uncomfortable in enclosed spaces or tend to feel a little claustrophobic.

Part of the installation involves cutting a trap door opening in the ceiling. This enables the stair lift to travel up and down between floors. It is really like a special kind of elevator for those who need it, but only have a small space to use. When the stair lift is not being used, the opening in the ceiling is covered so that there is no access to it. This minimizes the effect it has on the décor and is also a safety feature.

Some of the models of side hung stair lifts enable you to access the entryway on either the front or the side of the unit. They also have safety features, such as when the stair lift is in use, the doors automatically lock. This prevents them from opening or being opened accidentally during the transit of the lift from one floor to another.

Another safety feature that comes in some models is that it has a special governor that controls and monitors the speed of the stair lift. This means that it can sense if the stair lift is going to fast, and automatically slow it down. Many people worry about the lifts giving out, but that is why safety features have been implemented in its design to prevent that from happening.


Planning For Side Hung Stair Lifts


Make sure that you plan ahead if you are getting this kind of side hung stair lift. You will have to ensure that you have enough room to install it, with extra room at the top and bottom so that a wheelchair can turn around comfortably in the area to be able to enter and exit the lift.

Most of these side hung stair lifts are able to accommodate only one wheelchair, so keep that in mind. It will be a fairly tight fit. Also, you will have to make sure that you have a wall that is strong enough to be able to support the side where the stair lift is hung.


↑ Top