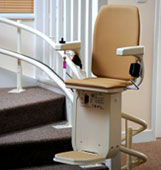 Best Stairlifts
If you're looking into purchase a brand new stairlift, there are a few reputable companies that have been manufacturing top-notch stairlifts for years. The truth is that thanks to technology, stairlifts have been getting better over time. Since there are more people in need of them, the competition in the industry has increased. Now, there are a lot more manufacturers offering different types of stairlifts. It can be rather difficult to choose one type of stairlift above all the rest, however, there are a few that have earned extremely positive reviews from clients and people in the stairlift industry.


Choosing Stannah Stairlifts


One of the best-known stairlift manufacturers is Stannah. They have been in business for about 140 years and their presence is strong mainly in the UK. They have a large network of dealers in the United States and Canada, too. They offer a wide variety of stairlifts that have been built using the latest technology. An extremely important advantage that Stannah offers is their complete warranty that covers up to two years after your stairlift purchase. This may also include two free services during this time. In addition, they also offer refurbished equipment that is covered by a one-year warranty. Customers seem to be content not only with their products, but also with their customer support: support that is available every day and at all hours of the night.


ThyssenKrupp: More than Elevators


ThyssenKrupp Group happens to be widely known all over the world due to their excellent elevators, however, they offer much more than just elevators. They're major manufacturers of stairlifts as well, and have been in business for a little over fifty years. They are known to manufacture stairlifts that are both trendy and safe. ThyssenKrupp strives to provide the customer with an efficient and affordable solution to their mobility issues. They have designed three different categories for their stairlifts, which are divided into the following models:

• Flow II – includes straight, corner, and spiral stairlifts
• Levant – only straight stairlift
• Comfort – only straight stairlift

Once you have decided you want to purchase a ThyssenKrupp stairlift, they will send a certified agent to your home in order to determine how the installation process is going to be carried out.


Acorn Stairlifts


In comparison to the other stairlift manufacturers, Acorn in the United States is considered an infant. Even though they've only been in business for just ten years, they have amped their business up and they employ roughly two-hundred fifty workers. Currently they provide service to thousands of customers all over the country. Competitors have started creating competition for Acorn in the States. Nonetheless, Acorn remains one of the preferred United States stairlift providers. The reason behind this is the fact that they offer a free estimate along with a consultation at no cost. Providing these free services, Acorn has been able to charm hundreds of customers who ended up purchasing. In addition, Acorn Inc. was the first manufacturer to begin creating awareness about stairlifts equipment and installation.


↑ Top