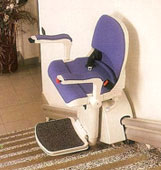 Free Stairlifts
Stairlifts provide you with an easy, relaxed way of moving from one floor to another. The initial investment can range between $1,395 to $4,500, which could be too expensive for elderly or disabled folks unable to work. Stairlifts are becoming a standard to allow free mobility between stories of homes and public buildings. If you are an individual with mobility problems and you've found yourself experiencing financial trouble, there are many organizations offering stairlifts for free. Visit charity pages such as Home Medical Equipment classifieds, which offers a wide collection of used medical equipment at no cost to you.


GTA Stairlifts for Free


Don't let your mobility limitations keep you from living like a normal person. If you or any other aged person you know are facing difficulties climbing the stairs, you ought to consider obtaining a stairlift in order to improve the way you live. There are many types of stairlifts available on the market within different price ranges. If you can't afford one, you can visit the GTA Mobility website. They receive countless applications every day. They will review the information that you fill out and if you qualify for a free stairlift, they will get in touch with you. They will be able to handle your paperwork and other formalities as well as transport and install the stairlift in your home. In case you don't qualify for a free stairlift, they also have affordable stairlifts for sale.


Stairlift Trader Blog


At Stairlift Trader Blog, they do reprocessing of used and unwanted stairlifts, which provides new ways for people to afford stairlifts. Senior citizens and disabled people now have a better and affordable way of living life; a lot of times stairlifts are even environmental friendly! In case you're searching for a brand new, curved or straight stairlift, you can browse through this website in order to find a stairlift that best suits your needs. The list provided on the website can be used at no cost. Every single organization on the list offers the following:

• Home surveys for free
• No duty written quotations, totally free of cost
• A no hard selling guarantee and no cold calling
• Excellent customer service
• Better quality products offered

There are three brands offered including Bruno, Stannah and Savaria.


Browsing Forums for Free Stairlifts


If you find yourself in honest need of a free stairlift you can find useful information by browsing through charity and donation forum sites. For example, when you visit the ALS forum, you will be able to search for 'Free Stairlifts' and find if anybody has started a thread listing companies that offer free stairlifts. It's actually quite common to run into people that are looking to donate their stairlift for various reasons. A lot of times it's because the user was suffering from a temporary disability and has fully recuperated and has no further need for a stairlift. You also can visit the 'A Full Cup' forum where users are looking to donate stairlifts to those in need.

↑ Top