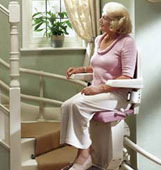 Stairlifts for Elderly
It can be tough for an elderly person to get up and down their own home sometimes. This is why stairlifts are ideal. Stairlifts are equipment that allows any mobility-limited person access up and downstairs without the need for tons of renovation. Basically a motorized chair follows a track and is controlled by a panel somewhere convenient on the chair.

A lift can be easily set up in one's home right along a stairwell. It should be set up with the design and architecture of your stairwell in mind. These factors include whether your stairwell curves, how long it is and where there are studs in your wall. All staircases vary and so should stairlifts.


Mobility Options for Two and More Story Homes


Stairlifts are the best option for multi-story houses with mobility-impaired folks present. A comfortable chair with sufficient weight capacity is necessary for convenient travel between floors. A wheelchair can be kept on each floor for accessibility. The lift works using electric and moves both up and down according to the input on the control panel. Stairlifts can be installed on any kind of staircase. This helps make it easier for those suffering illness, injury or old age to go between multiple floors in their home without the need of another person to help.


Finding Stairlifts for Your Home


It's easy to find stairlifts for any type of home. Stairlifts come in many forms and suit all sorts of needs. For example:

• Electric lifts can be used in a home. These work with the use of a standard power outlet in one's home.

• Battery powered lifts also work well. Battery lifts involve the use of a battery that recharges itself as it's constantly attached to a power source. The battery will work even in the event that the power supply to a home goes out.

• Many lifts work with curves around a property and even slanted areas for landing steps in the middle of a staircase. This ensures that the lift will be useful on any stairwell.

• Heavy duty lifts can be installed. These lifts have wide seats and offer four hundred pounds or more of weight capacity.


Getting Stairlifts Installed


The process for getting a lift installed is very simple. The heaviest part of a lift is usually about fifty to eighty pounds, depending on the model. Individual parts must be fitted together by stairlift companies to ensure that the lift will fit in your home. The only part of installation can can be considered especially difficult work is screwing the chair and the rail into the wall. So long as the measurements taken in advance were accurate, this process is even very straightforward.

It's especially important for the elderly to have access to stairlifts. A lift can ensure the safety of a mobility challenged individual. It helps allow the user to easily move between floors and will prevent falls while climbing up stairs that could be too steep for knees affected by arthritis in old age.


↑ Top