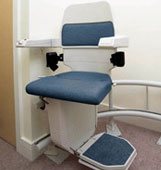 Reconditioned Stairlifts
The costs of brand new stairlifts can be pretty high. However, you can always search for reconditioned stairlifts because they are usually offered at much lower prices. Normally, people search for secondhand or reconditioned stairlift for mobility problems that come with age. The cost of reconditioned stairlifts is less expensive than brand new ones but can still cost thousands. Secondly, there are countless manufacturers that offer reconditioned stairlifts in addition to their brand new lines. This means that you can get the same type of stairlift you want; only it'll be slightly used.


Advantages of a Reconditioned Stairlift


Usually, reconditioned stairlifts will provide you with the same type of reliability as new stairlifts. There are some advantages when purchasing reconditioned stairlifts such as:

• Price – A secondhand or reconditioned stairlift will be cheaper than buying a new one. You can easily save between $300 to $1000 when purchasing a reconditioned stairlift.

• Brand name – When buying a reconditioned stairlift, you will have access to high-quality equipment. A lot of them have been returned because the previous owner's health has improved and no longer needs the stairlift.

• Devaluation – A reconditioned stairlift will not suffer the same degree of devaluation as a new one. They might be a better investment if you only need it for a short time.

• The secondhand stairlifts available for purchase are in good condition: they're often refurbished to near new condition before they are sold. As opposed to the new units available through manufacturers, you may be able to even turn a profit when selling a used model!


Choosing a Reconditioned Stairlift


Buying a reconditioned stairlift can be a feasible and inexpensive option when compared to purchasing a brand new stairlift. A reconditioned stairlift will be just as reliable as a new one if you choose well. As a matter of fact, you may want to look into distributors that offer a twelve month warranty. A few tips you might want to consider when choosing a reconditioned stairlift include:

• Choose the model you need and compare prices between new ones and a reconditioned ones
• Find out if you need to pay extra for delivery
• Calculate installation costs, make sure that it's included in the cost
• Research and make sure the parts are still manufactured


Where to Find a Reconditioned Stairlift


Nowadays, most manufacturers are starting to offer reconditioned stairlifts. Since their new products are covered with a warranty, they might have had to replace a whole set to previous customers which means they'll have a repair team fix the faulty stairlift and recondition it in back to working status. Later, they offer all of their reconditioned stairlifts on their websites. To find a reconditioned stairlift, all you have to do is visit websites like:

• AmeriGlide – stairlifts have been inspected by CSE (Certified Stairlift Experts)
• Budget Stairlifts – stairlifts tested against international safety standards
• Easy Step – offers a 12 month warranty
• Stairlift Company – most units are offered with a 2-year warranty on the drive train, and 1-year warranty on the parts

↑ Top