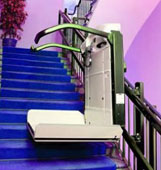 Handicap Stairlifts
If you are going through the stressful and sometimes problematic phase of purchasing a stairlift, you're probably considered moving to a one-floor house to save yourself the trouble! Rather than taking such an extreme measure, you may want to look at the possibility of installing a handicap stairlift. This is a more economical choice than moving into a different home. In case that your condition is permanent, a handicap stairlift poses a great opportunity for you to regain your mobility up and down your stairwell. It's extremely important to consider the mobility of the handicapped person(s) you're assisting in order to find the best handicap stairlift.


Choosing the Right Handicap Stairlift


There are some significant points to remember when selecting the right handicap stairlift. You can go for either a brand-new stairlift or a used stairlift. If you decide to purchase a used stairlift, make sure that it includes a safety belt. You should choose a model that suits the height of the individual that'll be using it. Ensure that the individual is comfortable using the stairlift and can get easily in and out of the lift. There are different models available on the market. Some of the models also have the feature of a battery backup in case of an unpredicted electricity failure. This provides consistency and security for the individual that will be making use of the stairlift. At the time of purchase, inquire about the terms of payment and installation process with the dealer. They should also be certified distributors and they need to offer some kind of warranty.


Costs of Handicap Stairlift


At times, you can find handicap stairlifts at reasonable prices. You should try to save money, especially if you have to pay for nursing help from a home health center. With the help of handicap stairlifts, you will have fewer things to worry about since your loved one will be entirely safe at home. Handicap stairlifts prices usually start at $2,000 and the maximum goes to $4,000. This of course, depends on the model that you are looking to buy. If you are considering a curved stairlift, it may cost anywhere from $7,000 to $15,000 which includes the cost of customization and installation of the product. In some areas you might have to apply for a special permit: be sure to check with local authorities. There are some personal loans, health loans and grants available which you can benefit from considering that Medicare does not cover these types of costs.


Where to Find Affordable Handicap Stairlifts


There are several websites that offer handicap stairlifts at affordable prices. A few of those websites are:

• AmeriGuide AC – Offers secure and genuine products at reasonable costs. Some of the features include 180 degree swivel seat, a powder coated finish, top and bottom call stations, a footrest with automatic flip-up and protection device.

• SpinLife – offers brand new handicap stairlifts with payment plans options, offers discounts sporadically

• Disability Systems – provides a wide variety of wheelchair ramps and handicap stairlifts

↑ Top