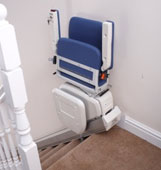 Price of Stairlifts
Stairlifts are a wonderful piece of equipment that allows disabled or elderly individuals to move around their home with more freedom. A railing is fitted up with the stairlift and assists with mobility from one floor to the other. Stairlift prices will vary depending on the type of staircase that you have in your house. If you have curved staircase at home or another kind of unique design, the stairlift price will most likely be higher. If you decide to buy a straight stairlift the prices are usually within the range of $2,000 and $4,000. In the case of curved stairlifts, it may be up to $15,000.


Different Types and Prices of Stairlifts


The price of a stairlift depends on the type and brand of the stairlift in which you are interested. There are different types of stairlifts including:

• Straight rail stairlifts
• Outdoor stairlifts
• Curved rail stairlifts
• Wheelchair platform stairlifts

For the standard price of a new straight stairlift, the minimum price would be $2,000 but the price can reach upwards of $4,000. The total price usually includes the installation charges and a limited warranty for parts (sometimes for labor, too). The prices for previously owned stairlifts can be significantly cheaper. Some manufacturers also offer refurbished stairlifts that have been repaired to working conditions. In addition, you should keep in mind that some stairlifts can be found for free through charity organizations.


Stairlift Loans


Since stairlifts can be rather pricey, some financial organizations offer special loans for medical equipment such as stairlifts. Still, before you make any move towards applying for a loan, you ought to check with your insurance company to verify if they will cover the stairlift for you. If you are veteran, you can check your military benefits to see if they will cover the costs of the stairlift. Be prepared to provide all the information that the request as they need to see if you qualify for any programs. If this doesn't work you can contact the Area Agencies on Aging. They should be able to assist you in locating funds or financial alternatives for you to obtain your stairlift.


Stairlift Installation


Some stairlifts are practically fixed to the staircases steps and not to the walls. Curved stairlifts need fixing and fitting directly into the wall in order to function properly. The truth is though, not all houses are made exactly the same. Therefore, at least some level of customization is required for most stairlifts to be effective. Usually the company that sold you the stairlift will be able to install it properly. You have to remember that most of the time the installation fee is included in the total price that will be paid for the equipment. To give you an idea, a regular installation may take anywhere from two to six hours, depending on the complexity of the stairwell. If you are unsure, you may request to have a certified installer visit your house and give you some more accurate advice on the matter.

↑ Top