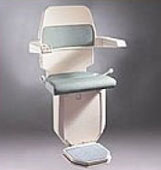 Second Hand Stairlifts
Stairlifts can be high priced products because they are quite large and are made using the latest technology. If an individual has a limited budget, he or she has the option of purchasing a second hand stairlift. This is quite possibly the best solution for those that are in need of a stairlift but cannot afford to pay full price for a new one. Some companies that offer second hand stairlifts also offer a warranty period of 12 months. You should be aware that a stairlift's expected lifetime typically runs for about ten years. This is very important to consider because you may have a difficult time trying to locate spare parts for particularly older units.


Advantages of Buying a Used Stairlift


When purchasing a second hand stairlift, the main advantage should be clear; it saves you a significant amount of money. If you go for brand-name stairlift, prices can start around $3,000 to $5,000. On the other hand, if you are interested in buying a used or second hand stairlift, their prices range from $800 to $1,000, which a middle-class individual will be able to afford. In case you only need your stairlift for a couple of years, a second hand stairlift is a reasonable option as you won't need it for ten years. If you are looking for brand-name, used stairlifts, there are a few organizations that offer them at almost half the price of a regular lift!


Finding Cheap Used Stairlift


Even though used stairlifts are already cheaper in price than newly manufactured oens, there are a handful of companies online that offer used stairlifts at great prices. One of the most popular companies is AmeriGlide, which offers a wide variety of basic stairlift models. Some of the benefits that they offer include:

• Easy to use
• Long warranties
• Inexpensive prices
• Dependable service
• Security sensor placed in the footrest area
• Seat belt

The AmeriGlide stairlift was not engineered and designed to be advertised as the next best thing; instead, it was intended to be simple, useful, inexpensive and efficient. They seem to have achieved every bit of their mission. The company has taken the task of assisting middle-class earners and retired, non-working seniors seriously. Hundreds around the world have purchased a second hand stairlift from AmeriGlide and they're more than satisfied with their lift.


Where to Find Reviews on Used Stairlift


You can visit various stairlifts websites to find product reviews that other users have provided. People generally give feedback on the basis of some of the features of a stairlift, such as:

• Model
• Appearance
• Price
• Reliability
• Adjustability
• Rating within the market

Each stairlift has different specifications because they were designed to meet diverse requirements of individuals with disabilities. A great source for reviews on stairlifts models is the website "Stairlift Review". You will be able to find reviews from customers who have purchased Acorn and Bruno stairlifts just to name a few. Another reliable source of reviews is Silver Cross website: simply search for client testimonials!

↑ Top