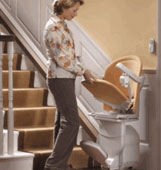 Stairlifts Grants
A stairlift generally costs at least a thousand dollars to get installed. Others may cost tens of thousands of dollars depending on the way the lift is designed and how large it is. This investment is expensive for anyone let alone the elderly and handicapped who may not have a primary source of income aside from social security or disability! It helps to look into getting a grant for the purchase of a stairlift. These grants offer money for qualified individuals that never has to be repaid.

The money that is provided after obtaining the grant can be used on any lift. So long as the money is appropriated as it's intended to be, it comes as a service of the government. By getting a grant, you'll easily get a lift permanently installed in your home.


How Long Does it Take to Get a Grant?


The popularity of grants for stairlifts has made it a bit of a long wait to get a grant. Often it takes between one to two years for the process to put money in your hands. The biggest problem is that people who ask for grants aren't given updates as the grant paperwork goes through; the only correspondence is the acceptance or denial of your grant application.


Who Usually Qualifies?


Here are a few examples of people who generally qualify for grants for stairlifts:

• People who are older in age and have low incomes may qualify for grants for stairlifts. The Rural Housing Services' Very Low-Income Housing Repair Program offers grants for elderly people who need items to help reduce health hazards in their homes.

• Veterans who receive veterans' benefits can qualify for grants. The Veteran's Administration can help veterans who have served their country to get money to pay for lifts.

• People who live in neighborhoods that are supported by the Department of Housing and Community Development can also qualify. Community Development Block Grants are often used to pay for upgrades to homes.

• A person who plans on living in their home for a while can also qualify for grants for stairlifts. A grant can only be given out to people planning to live at their property for at least five years.


Stairlift Options While You Wait for Approval


It may be best to consider renting a stairlift while you're waiting to get your grant application approved. Fortunately, almost any type of lift can be rented by the month while you wait. You can rent out stairlifts for about fifty to a hundred dollars a month.

A used lift is also an attractive option. Companies that sell stairlifts usually offer used models at cheap rates, too. These models may be half their usual price! Consider a grant if you want to get a lift permanently installed in your home. Stairlifts can help you become more mobile in your home but they can be expensive. A grant can help you in paying off a portion of the expenses that're involved in buying a quality lift.


↑ Top