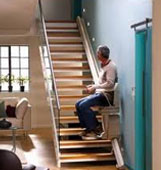 Stair Gates and Stairlifts
Stairlifts are extremely important for disabled people to regain mobility in their own home. They come in different types and prices. It's equally important to pay attention to the safety of your stairs as well. One of the best pieces of equipment that can be combined with stairlifts is a stair gate. They are widely used to keep children away from the steps, or to keep them safe inside a room. Nonetheless, they are also used to prevent adults from falling down the stairs. Since having a stairlift implies that there is indeed a flight of stairs, a stair gate seems nothing but appropriate to be installed, too.


Extra Protection


Installing both stairlifts along with stair gates will provide you with peace of mind. Considering that you're taking care of a disabled loved one, you want them to be as safe as possible. The stair gate will help avoid an accidental fall and will contribute to their well-being. If by any chance your loved one uses a wheelchair, the stair gate will prevent the wheelchair from rolling downstairs as well. In addition, they can play two roles by helping you to keep the little ones, (assuming that there are children in the house) from climbing up the stairs unsupervised. It's possible to install stair gates both at the bottom and at the top of the stairway. You may want to contact your stairlift supplier and installer to see if it's possible for them to install both pieces of equipment at the same time.


Stair Gates Not Only For Children


Stair gates are widely used to protect children. Most parents that own a two story home and have young children in the house have opted to install stair gates. This is done in order to avoid any regrettable incident such as falls and broken bones. However, this is not the only use for stair gates. As a matter of fact, stair gate installations for elders or disabled people have increased over the last few years. This is due to the fact that nowadays there is more general awareness that stairlifts are available. Acorn, Inc. is one company that is responsible for raising the stairlift awareness in the United States. Before Acorn offered their products in the US, not too many people knew about the solutions available through using stairlifts and stair gates.


Factors for Stair Safety


The whole point of using stairlifts and stair gates is to keep people safe. However, there are other factors that you should take into account in order to make the stairway safer:

• Railings – the stairlift is attached to the rails: make sure there are no gaps between the spindles

• Two handrails – for extra security, you might want to consider installing an extra handrail

• Clear the area – even though the stair gate might prevent somebody from falling, if there are objects in the way, your loved one might get stuck

• Avoid waxing the steps – this can easily result in a fall in socks or barefooted

↑ Top