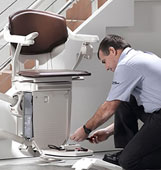 Stairlift Maintenance
Stairlifts are expensive pieces of equipment. Before purchasing one, you need to make sure that you have enough funds to cover the costs that come with it. Once you purchase one you should go over your instruction manual in order to be aware of the maintenance checkups you must perform to keep it in great working condition. For example, it's very important that you lubricate the tracks roughly every three months. This helps to keep the seat traveling up and down with no major hitches. When it comes to the swivel chair, it should be inspected every six months or so for broken parts. It should also be lubricated for proper functioning.


Service through Warranty


In the case that your stairlift starts having problems, don't attempt to fix it yourself. Before calling a repair man, it's extremely important that you check the warranty on your unit. Depending on your distributor, the warranty could cover between one and three years after the time of purchase. The reason why you shouldn't try to repair it yourself is the fact that the warranty might get voided if you do. The truth is, warranties can be different depending on the model, the year and the manufacturer. Usually, they cover the parts but you will have to pay for the technician that will replace them. Other important components such as the battery might be entirely excluded from the warranty. If that's the case, you might be able to purchase one on the web and install it yourself.


Tips for Proper Maintenance


If you want your stairlift to last a long time there are a few tips that you should always keep in mind when it comes to maintenance.

• Tracks – Make sure to clean the tracks thoroughly at least every three months. After you clean the track, you can proceed to apply lubricants. This should make the seat move a lot smoother. However, if you own an outdoor stairlift, you should clean the tracks on a more regular basis. Try use petroleum jelly as lubricant.

• Inspect – Always make sure to check whether parts are out of place or broken. This includes the wheels. If you see that the wheel is hardly moving, it might time for a replacement. You need to check the cables to make sure that they are working properly.

• Batteries – They usually last quite a long time. You might need to change it after one or two years of use.

• Bolts – Keep a close watch over screws and bolts: they need to be tight!


Where to Find Repair Service


The first place you should contact for proper repair service is the company that sold you the stairlift. In case your warranty has already expired, or it doesn't cover the damages, you'll be free to hire any stairlift repair company you like. There are numerous companies all over the United States that offer their services. For example, Long Island Stairlifts Center sells Acorn stairlifts but also offers repair services for different brands and models.

↑ Top