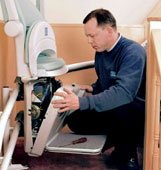 Stairlift Installers
Stairlifts are large pieces of equipment that need to be installed by somebody who is experienced in assembly and either rail or wall attachment. There might be laws that regulate the installation process in some States but most States allow people to take the installation into their own hands. Even if it's possible for you to install your own stairlift, it's highly recommended that you have a certified installer do it for you. You might not have to worry about paying more money because most brand-new stairlifts include the installation fee in the total price.


Straight Stairlift Installation


Straight stairlifts are a lot more common than curved ones. Since there are no bends involved, the straight stairlift installation process can be finished much faster than other stairlift types. It's still important that you have an experienced installer put in your stairlift. If you purchased your straight stairlift directly from a dealer, they will often be able to provide you no-cost installation. On the other hand, if you bought a second-hand stairlift, then you ought to contact a professional installer. O'Neill Stairlifts is a company that services the Washington DC, Maryland and Virginia areas. They have been in business for more than twenty years and have accrued the experience necessary to deliver top-notch stairlift installation services.


Curved Stairlift Installation


Curved stairlifts are more difficult to install than straight ones. They can take a much longer time to install because they have been specially designed to fit curved stairs. A lot of times the carriage has already been pre-installed by the manufacturer. This is done in order to make the installation process a bit less exhaustive. The time of the installation can't be accurately estimated because each house is different and every stairway might be built differently. Nonetheless, many stairlift installers offer a free quote on price for installation. You can speak to them to arrange an at home visit where they will take measurements of the stairwell and give you a better idea regarding both how long installation will take and what it will cost. Most companies offer this service for free or included in the total of the installation price.


What to Expect from an Installer


Whenever you need to contact a stairlift installer, you should expect them to be courteous and helpful. In the case you've purchased a second-hand stairlift, some dealers might be hesitant to include the installation service. In cases like this you should turn to companies such as O'Neill Stairlifts, which has been providing installation services for more than twenty years. They receive countless calls every day from people that have purchased stairlifts, straight and curved, off the internet and now need help with installation. You can also contact other companies like Best Medical Equipment. They specialize in repairing and installing stairlifts as well as other types of medical equipment. These companies are usually partnered with stairlift manufacturers and have plenty of experience in handling the tools and parts that are involved with the installation process.

↑ Top