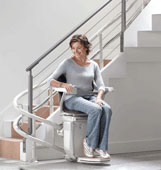 Rental Stairlifts
If you are in need of a stairlift for short duration of time, renting is the best and most logical option. The total rental price will depend on the duration you need the lift and the model of the stairlift you choose. Some rental agencies have restrictions on the length of time that you can rent your stairlift. However, there is no minimum time required in most cases. Renting a stairlift will work best for those that are suffering from a temporary condition. Many people that are recuperating from a major surgery and may be going through physical therapy to gradually gain back their mobility could really make use of a rented stairlift.


Buying vs. Renting a Stairlift


The only person that can decide if it's better to buy or to rent is you. It's important that you consider the different factors that would lead you to consider purchasing a stairlift.

Advantages of Buying a Stairlift

• Can be built with special dimensions
• Has a full warranty
• Installation fee is included
• Parts are immediately available

Disadvantages of Buying a Stairlift

• Expensive investment
• Customized stairlifts require a lot more time
• Warranty may not include all problems
Advantages of Renting a Stairlift
• Saves you a lot of money and hassle
• You can find prices as low as $75.00 weekly in the U.S. and £10 in the U.K.
• No minimum rental time required

Disadvantages of Renting a Stairlift

• Doesn't always include 24 hour support
• You have to return the equipment
• Damages may be charged to you separately


Benefits of Renting a Stairlift


There are several benefits associated with the rental of a stairlift. First of all, you won't have to make a large payment because you are not purchasing the equipment. Rental payments are usually paid on a weekly basis. Most companies charge a flat fee per week regardless of the number of days that you used the stairlift. This fact is advantageous if you're planning to use a lift for at least a full week. This is a great option for families that need a stairlift for a short time. In addition, most rented stairlifts are checked for functionality every time they're brought back in, meaning that it's not likely you'll have any problems during your rental term. Some companies might even offer their rental services without requiring you to sign a contract.


Where to Find Stairlifts for Rent


When searching for a rental stairlift, the internet is always your best tool. You can log on to different websites that offer stairlift rental. By checking the stairlift websites you will be able to learn more about the type of stairlifts that are available for rental. You can also check the prices that are offered, and ultimately choose the lift that best suits your budget. In addition, you can contact the company directly via email or phone for information. Some of the most popular rental stairlifts companies are:

• Stairlift Company
• Easy Step Stairlift Specialists
• Rental Stairlifts UK
• Stairlift Rentals, Inc.
• Pennsylvania Stairlifts, Inc.
• SilverCross

↑ Top