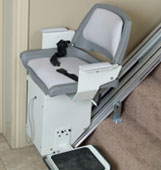 Ameriglide Stair Lifts
Ameriglide is an American mobility-device company based out of Raleigh, North Carolina. They are known as one of the largest manufacturers of stair lifts in the industry. Ever since 2003, this company has been building electric and battery-powered stair lifts. The typical warranty on Ameriglide stair lifts covers two years on parts and five years on drive trains. They are also highly regarded for their dependable customer service.


Ameriglide Stair Lift Drive Trains


The drive trains on Ameriglide stair lifts will either be of the rack and pinion or heavy-duty cable variety. Each type of drive train has its own specific pros and cons that vary in categories ranging from installation and maintenance to weight capacity and load pull. However, each Ameriglide lift model is built in a way that saves the customer money. And all Ameriglide stair lifts are functional enough to give users a way to enjoy more independence and mobility in their homes. Of course, you will need to choose the right Ameriglide model in order to get the most benefit from a stair lift.


Models of Ameriglide Stair Lifts


The most popular line of Ameriglide stair lifts is the Ultra line. Within this line, there are the following models: the Deluxe, the Heavy Duty, the Premier, the Sapphire and the Supreme. All of the Ultra Ameriglide stair lifts are battery powered and give users smooth stop-and-start movements. They are easy to install and a great value for the price.


Ameriglide Stair Lift Power Choices


Ameriglide makes cable-driven stair lifts that run off two kinds of power sources: AC electric power and DC battery power. These cable stair lifts offer a high maximum weight capacity. For instance, the HD model is made to hold users of up to 350 pounds. All of their cable-driven lifts are equipped with steel elevator cables, which gives them a 4,000-pound pull capacity. While uncommon, the Ameriglide models do not contain a circuit board. Thanks to the absence of this feature, the units are more secure because there are less parts with which to contend.


Other Features of Ameriglide Stair Lifts


Most Ameriglide stair lifts come equipped with safety sensors located on the swivel seat, footrest and the end of the track. In addition, these lifts have a one-half horsepower motor and SoftStop and SoftStart technologies. Many models can be operated with one hand. Depending on the features you choose, you can expect to pay anywhere from $1,500-$2,500 USD.

Each stair lift made by Ameriglide comes in an installation package. In these packages, there is the seat, track and all necessary hardware to fit standard staircases, all of which allow for do-it-yourself installations. If you decide to install the unit yourself, you can order installation instructions, measurement guides and multi-dimensional drawings in order to ensure correct installation. For people with a handyman background, an Ameriglide stair lift can be installed in one day. However, customers do have the option of hiring a professional to take care of the installation. Overall, Ameriglide is a great brand.


↑ Top