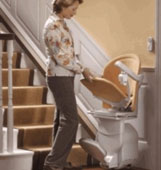 Stair Lifts Rentals
Those who are considering getting a stair lift installed in their home are usually concerned about the cost of buying one outright. Some people think about renting a unit in order to save money. At first thought, the lower price of stair lifts rentals is quite appealing. Of course, there are some pros and cons one must weight before choosing to go the rental route.


The Price of Stair Lifts Rentals


First of all, it is quite a lot cheaper to get stair lift rentals than to buy stair lifts outright when thinking about it in terms of the initial payment. In addition, you will be required to pay a small monthly fee that will be used to cover the price of installation. Generally, stair lift rentals are more financially viable than buying lifts outright. Renting a lift is a great idea for elderly people who are on a fixed income and cannot afford the full price of a stair lift.


Time Periods for Stair Lift Rentals


It is advised that people should only rent a stair lift if they plan to use the device for a short time period. Even though it seems that small monthly payments will be an easy expense to manage, one has to consider what they will be paying out in the long term. Eventually, the renter will pay more in rental fees than than what they would have buying a unit outright.


The Cost of Stair Lifts Rentals


Usually, stair lifts rental costs will require a significant deposit. This deposit typically ranges from $1,000-$2,000 USD. The rental company will put the deposit amount toward installing, maintaining and the future repairing of the device. In addition, the initial deposit will pay for the unit's power supply and the expense of uninstalling the lift from the renter's home once the lease period is over. After making this deposit, the renter will be expected to make monthly rental payments for the device. The usual payment per month ranges from $100-$200 USD.


Stair Lifts Rentals Products and Contracts


Those who are seriously considering getting stair lifts rentals for their home need to be aware that the majority of rental companies only have straight staircase lifts. Straight lifts are a lot less expensive and a lot more easy to install in comparison to curved staircase lifts. Rental units have usually been previously used; therefore, the company will be limited in regards to the colors and options they are able to offer. Furthermore, curved models have to be customized to the particular staircase.

However, if you decide that stair lifts rentals are the right choice for your needs, you will need to thoroughly examine the contract before signing. Any verbal agreements made between you and the rental company should be included in black and white on the contract. And be sure to read all of the fine print. You need to be sure that the agreement does not include any hidden fees or previously undisclosed stipulations. Your main goal should always be protecting your financial interests.


↑ Top