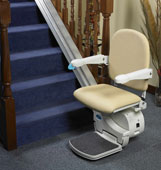 Minivator Stair Lifts
Minivator is a subsidiary of Handicare, a U.K. based mobility device company. Minivator stair lifts are distributed throughout the world. With one of these lifts, users can climb stairs by themselves. For people who are at great risk of injury when navigating a staircase, a stair lift is an excellent and safe solution. If you have physical limitations, it is worth your time to research some of the most popular stair lifts offered by Minivator. Satisfied owners of Minivator stair lifts will tell you how much they like being able to move between each level of their house with minimal effort.

For the elderly and disabled, a stair lift can allow them to stay in their own home instead of moving to a one-story house or an assisted care center. Currently, Minivator manufacturers six excellent stair lift models to accommodate all types of users and staircases. Once you read over each model's product description, you will have a good idea as to what type of chair lift will be best for your particular needs. The most popular models of Minivator stair lifts are the Minivator Perch, Minivator Simplicity, Minivator Simplicity Plus, Minivator 2000, Minivator 1000 Outdoor and Minivator 1000 Indoor.


Minivator Stair Lifts: The Simplicity and the Simplicity Plus


The most basic model of Minivator stair lifts is the Simplicity. While the Simplicity does not include luxuries like power footrests and swivel chairs, it has all of the safety features consumers expect. The Simplicity Plus version of Minivator lifts are a souped-up version of the basic Simplicity model.

The Simplicity Plus features powered, automatic footrests and swivel chairs. Both of these features make the Simplicity Plus easier and safer to use. Those who are concerned about interior design will like that fact that they can choose from among several upholstery color options.


Minivator Stair Lifts: The 1000 and the 2000


The 1000 model of Minivator stair lifts is newer than the Simplicity models. These stair lifts are available in several different colors and come standard with power swivel chairs and footrests. While the 1000 model is meant for straight staircases, the 2000 is designed for curved staircases. The 2000 Minivator features a twin-rail system that attaches to even the most narrow of stairs and hardest of bends. In addition to power footrests and swivel chairs, 2000 Minivator stair lifts come in virtually any color imaginable.


Minivator Stair Lifts: The 1000 Outdoor and the Perch


The 1000 Outdoor Minivator stair lifts are very similar to the 1000 models. However, as the name suggests, the 1000 Outdoors are meant for outside use. Because they are used outdoors, these devices are covered in a weatherproof coating and have an aluminum rail.

The Minivator Perch is meant for straight staircases. The Perch is ideal for hard-to-fit narrow stairways. With the Perch, the user will stand on a platform instead of sit in a chair. In order to keep the user secure, there is a special belt strap and a grip rail to hold onto during transit.


↑ Top