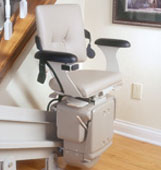 Bruno Stair Lifts
Michael and Beverly Bruno created the Bruno Stairlifts Company more than 20 years ago. This company has a reputation for being a top-quality mobility-aid brand. Currently, Bruno produces more than 50 various products like vehicle lifts, turning automotive seating and stair lifts. Bruno stair lifts come in straight and curved models that can be used indoors and outdoors.


Awards and Recognitions


Bruno holds ISO-9001 certification. This certification means that the company's stair lifts are known for excellent quality. Bruno is one of the few companies that have the skill base to manufacture curved and outdoor stair lifts. Some of their other products have received awards and accreditations such as "Caregiver Friendly" from Today's Caregiver Magazine and "Best New Product" award from Da Vinci.


A Sampling of Bruno Stair Lifts


Three of the most popular Bruno stair lifts are the Electra-Ride II, Elite and LT. There is also an Electra-Ride outdoor model called the Outdoor Elite, which can hold a maximum load of 400 pounds. Bruno also makes a stair lift to accommodate curved staircases. This lift is called the Curved Rail III; it can hold up to 350 pounds. In regards to Bruno stair lifts for straight staircases, all of their straight lifts will work at inclines no greater than 45 degrees and fit stair widths of as little as 32 inches. The majority of residential staircases can accommodate Bruno stair lifts.


Battery Power


Each one of the stair lifts produced by Bruno receive power via 24-volt DC rechargeable batteries. This is a standard method of powering lifts; most brands and models utilize this type of power because of the benefits that come along with it. First of all, battery power virtually eliminates the risk of electrocution. In addition, it makes starting and stopping smoother processes and allows the lift to be utilized even during a power outage.

Many users of Bruno stair lifts are impressed by the life of these devices' batteries. Bruno says that their stair lift batteries can last anywhere from 3-4 days, the equivalent of 15 round trips on the staircase, without requiring a charge. These batteries typically last from 3-5 years before needing to be replaced. Most hardware stores carry replacement batteries.


Bruno Stair Lifts vs. Comparable Brands


All Bruno stair lifts offer a two-year warranty for parts and a five-year warranty for the rail system, motor and gear box. These warranties are quite excellent when compared to those provided by other companies. And when it comes to appearances, Bruno lifts have more stylish features than comparable brands, such as those made by Stannah.

However, other stair lift manufacturers offer similar models at lower prices, like the Ameriglide brand of stair lifts. But in its price range, Bruno tends to have stair lifts of the most high quality, making Bruno stair lifts a better value. People who want all of the bells and whistles may find that other brands are to their liking, even though they have to pay more. There are also other brands that come at a cheap price but these do not have all of the great features found on Bruno stair lifts.


↑ Top