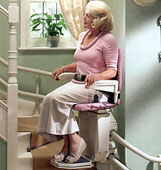 Residential Stair Lifts
Once people reach a certain age, or experience a debilitating injury or disease, simple tasks may become nearly impossible. In some cases, people are no longer able to climb their staircase without assistance. This problem is beyond frustrating. Diagonal residential stair lifts are the perfect option for people who want access to all stories in their house.

These devices are an excellent alternative to elevators, which cannot be retrofitted into typical American homes. If you feel confined because you can only enjoy the main level of your house, it is time to look into residential stair lifts. These lifts can be fitted onto virtually any type of staircase and they are available at a wide range of price points to meet anyone's budget constraints.


Types of Residential Stair Lifts


There are many different kinds of residential stair lifts that are made by specialty manufacturers and medical equipment suppliers. Companies in these industries are knowledgeable about the needs of people with limited mobility. These lift providers can provide cost-effective solutions for elderly and handicapped consumers.

Customers can choose indoor lifts that ride along one rail that fits onto an existing staircase. In some cases, the rail will be attached on the staircase's conjoining wall. If you happen to have a standard, straight staircase, you will not have to pay as much as those who have a curved or semi-landing one. If you do have a more complex staircase configuration, the lift will have to be custom made in order to fit the turns and angles on the stairs. The custom measurements is what causes the curved residential stair lifts to be double or triple the price of straight residential stair lifts.


Standing Residential Stair Lifts


For people who cannot bend their knees or experience pain when sitting, there are standing residential stair lifts. However, standing lifts are not equipped with many extra features. On the other end of the spectrum, chair residential lifts come in a wide variety of models, styles and optional features. Some models can even fold when not in use to save space on the staircase.

One common feature seen on current residential lifts is a 90-degree swivel seat. The swiveling movement allows the user to easily get on and off the chair without having to twist their body. Stair lifts for the home also come with sensors that cause the lift to stop moving if it detects a person or object in its path. Curved stair lifts have a speed regulator that causes the lift to slow down when going around a bend.


Operating a Residential Stair Lift


Residential stair lifts can be operated in one of two ways: with a joystick or remote control. The remote-controls are usually mounted to the wall at both ends of the track. Some consumers prefer to buy lifts with an integrated back-up battery that allows them to use the stair lift even if the power goes out. All of the features incorporated into modern residential stair lifts make them highly safe and convenient for anyone who uses them.


↑ Top