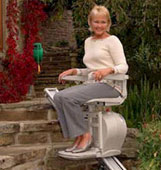 Exterior Stair Lifts
Take a moment to imagine that you live in a great two-story house. All of a sudden, you are stricken with a degenerative disease or injury that leaves you dealing with a debilitating mobility problem. Now, moving around your house is difficult and walking up and down the stairs is tiring and painful. If this scenario resonates with you, it is most likely that you have considered buying an indoor stair lift. However, if you house is raised above street level, you may find it difficult just to go outside. But that does not have to be your reality anymore thanks to exterior stair lifts.


Exterior Stair Lifts Can Be Your Lifeline


If you want to simplify the process of entering and exiting your home, exterior stair lifts are what you need. Exterior stair lifts can be mounted to an existing set of porch or deck stairs, removing the obstacle of leaving your home. This is a much better option than putting your house up for sale and moving to a house that is level with the ground.

However, before you take the leap and buy one of the many exterior stair lifts on the market, you need to know about the certain characteristics to search for when choosing a lift. When it comes to outdoor units, the lift must be weatherproof, have safety sensors, provide a quiet ride and be easily installable.


The Most Important Characteristics of Exterior Stair Lifts


When a stair lift is located inside of a building, there is no need to worry about protecting the device from the elements. Indoor lifts are not exposed to dust particles, sun rays or rain drops. But when a lift is located outdoors, it is a much different story. When looking at the various exterior stair lifts on the market, only choose one that comes with a weatherproof guarantee.

For example, the lift's rail needs to be resistant to corrosion. Many outdoor lift rails consist of an aluminum alloy. Furthermore, the seat's padding should be lined with fabric that is resistant to UV rays from the sun.

Exterior stair lifts need to have safety sensors. The majority of indoor lifts come equipped with safety sensors as a standard feature. However, this is not always the case for outside models. It is recommended to only buy an exterior lift with these sensors so you can enjoy the same protection from pathway obstructions that indoor units provide.

And of course, the exterior unit should operate quietly. Even though you will be using this lift outside, your neighbors do not want to hear the startling noise of a stair lift motor. This is especially true if you tend to leave your house early in the morning or late at night.

Finally, you should try to get an exterior stair lift that is easy to install. Although most companies provide installation services for exterior stair lifts, this service is not always included in a lift package. If you plan to install the device yourself, it is in your best interest to buy a model with easy-to-follow installation instruction.

↑ Top