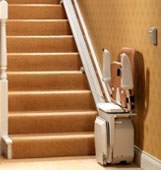 Summit Stair Lifts
Summit Lifts, Inc. are known for building reliable, basic stair lifts at affordable prices. Even though Summit stair lifts are much cheaper than other leading brands, they still offer many of the other features found in competitive, pricier models. For example, Summit stair lifts come equipped with constant pressure controls. These controls are designed to make the lift stop moving as soon as the user removes their finger from the button. This brand also puts sensors in all of their stair lifts in order to detect any obstacles in the unit's path.


Summit Stair Lift Cable Systems


Summit stair lifts utilize cable systems instead of rack and pinion ones. While rack and pinion systems provide the user with a smoother ride, these systems have to be lubed and cleaned at regular intervals. The beauty of cable systems is that they require very little maintenance. The cables used in Summit stair lifts are aircraft cables that can handle a maximum rating of 4,200 pounds, which means the chairs can hold a person who weighs 350 pounds. This weight limit is slightly more than expensive brands like Stannah. So even though Summit lifts do not provide the most smooth ride, they can handle larger loads and they require less maintenance.


Powering Summit Stair Lifts


The stair lifts made by Summit run off AC currents with a 15 AMP, 115 VAC minimum, which is standard in American households. However, a lot of leading brands use DC rechargeable batteries for their stair lifts because these batteries allow for smoother stops and starts. While this may be true, DC rechargeable batteries have their disadvantages like needing to be regularly replaced. In addition, the batteries must be charged after every 15-20 round trips on the staircase. This means battery-powered stair lifts may not be the best choice for one who uses their lift frequently.


Installing Summit Stair Lifts


Summit stair lifts are designed rather simplistically. Because of this, they are thought to be easy to install. Most people with basic handyman skills can install one. Even so, vendors recommend that customers hire an installation expert to ensure safe and proper installation.


Summit Stair Lift Drawbacks


Like any other brand of stair lifts, Summit stair lifts do have a few drawbacks. First of all, Summit lifts do not come equipped with a lot of the extra luxury features that are found in higher-priced brands. And Summit does not do any customizations. For example, if a Summit model is designed with a manual-operated swivel seat, you cannot ask for a motorized swivel seat.

In addition, Summit lifts do not offer a wide array of seat belt options. While the look of these stair lifts are rather basic, they are ideal for people who are more concerned about their budget than the appearance of a lift device. Consumers tend to agree that Summit staircase lifts are not the most stylish models on the market. However, they are quite functional and just as safe as more expensive brands. All in all, the price is what draws people to Summit stair lifts.


↑ Top