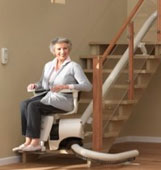 Stair Lifts for the Elderly
One of the main problems facing the elderly who still live in their own home is climbing the stairs. Stair lifts for the elderly are great solutions for those who lack a wide range for mobility. These devices allow people to enjoy all the areas of their home without assistance or the risk of injury. Even those who can climb the stairs without assistance may experience joint pain if they have arthritis or other injuries. Even younger adults who have recently been through a surgery can use these stair lifts.


Wheelchair Stair Lifts for the Elderly


Some elderly are confined to a wheelchair. These people can still use a stair lift as long as it is designed for wheelchair users. Wheelchair devices come equipped with an inclined platform lift. This lift lets the user roll their wheelchair directly onto the device in order to travel up and down the staircase. The incline feature eliminates the need for a caregiver to help them on and off the stair lift.

The first wheelchair stair lifts for the elderly were designed to be used only on straight stairways. But now, one can purchase a lift that is built to fit curved stairways, corner stairways and sub-landing stairways. Wheelchair lifts are designed to run along a track that is installed one one side of the staircase. The track is attached to the wall for extra reinforcement.


Stair Lifts for the Elderly Eliminate the Need for Assisted Care


A lot of senior citizens have lived in the same house for decades, which means they usually do not want to go to an assisted care home. Those who refuse to move, and do not have a stair lift, have to turn a downstairs room into a bedroom simply because they are unable to walk up and down the staircase in their house. This mobility issue also puts a lot of strain on the elderly person's children who want to give their parent a way to live a somewhat independent life.

Stair lifts for the elderly can give older people the independence and freedom they need to move throughout their house. These devices also positively effect the elder's self-confidence. The lift user will be much happier knowing that they can stay in their home much longer than they originally anticipated. And the children of the stair lift users can rest assured that their parents will be much safer living alone.


Installing Stair Lifts for the Elderly


By conducting a simple online search, you can find a stair lift vendor that is located near your loved one's home. The majority of stair lift companies offer free estimates and can give a quote on-site. Most installations take several days to complete. In the event that the staircase has a mid-landing, the company will have to install two or more stair lift chairs. If the staircase is curved, one chair will suffice. A lot of today's models are designed to fold when not in use in order take up as little space as possible on the staircase.


↑ Top