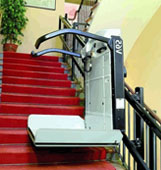 Wheelchair Stair Lifts
Wheelchair stair lifts are perfect for residential homes because they give users a comfortable and an easy way to access their entire home. These devices are specifically made for disabled people and the elderly who find independent movement to be a difficult task. Wheelchair stair lifts allow people to easily navigate up and down stairways, giving them the freedom they deserve.


Styles of Wheelchair Stair Lifts


Today's wheelchair stair lifts are available in many compact and trendy styles that are meant to flow with the color schemes and decor in the specific area. They also come in various models like portable, inclined and vertical platform lifts, all of which are great for the outdoors and the indoors. Manufacturers offer customers the option of configuring and customizing according to their particular specifications. However, each unit comes equipped with a strong platform in order to fit all different designs of wheelchairs, such as child, sport, adult and powered wheelchairs.

In addition, wheelchair stair lifts are made in straight stair and curved stair models. These devices are also powered in two different ways: electricity and hydraulic power. Many people prefer hydraulic powered models because they can be used even if the electricity goes out. They also make less noise and offer comfortable, smooth access between each story of the home. Hydraulic models are relatively easy to install. However, just as many consumers go with electric models because they are less expensive and more flexible.


Wheelchair Stair Lift Safety Features


Manufacturers take all necessary measures to make sure wheelchair stair lifts are safe and secure. Most units are equipped with obstruction sensors that are able to detect any object along its path. In the event that there is an obstruction, the sensors will prevent the lift from moving any further; this prevents the user from becoming injured and the device from sustaining damage.

Most of the models have a non-skid platform surface. This platform keeps the user from slipping while getting on and off the device. In addition, wheelchair stair lifts have optional remote controls, which facilitate easy operating and key locks that keep unauthorized from using the device. Some of the other common features on wheelchair lifts include:

* A final limit switch
* A folding seat
* A manual lowering device
* A safety panel sensor
* An anti-skid flooring
* An audio visual alarm
* An automatic dual access ramp
* An electro-mechanical brake system with motor
* An emergency alarm
* An emergency stop switch
* Armrests
* Grab rails
* Pressure control buttons
* Safety belts.


Great Brands of Wheelchair Stair Lifts


Before deciding on the particular brand and model to purchase, you need to figure out what you want from a wheelchair stair lift. This means you need to research manufacturers, dealers and available models. Among the most well-known brands in the industry are Bruno, Savaria and Thyssenkrupp. The technicians of a particular dealer can assist you further in selecting the perfect brand and model of wheelchair lift for your home..


↑ Top