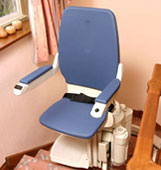 Bison Stair Lifts
Bison Bede is one of the main companies that builds residential stair lifts. Bison operates in the globally expanding home-care market. This company has already provided lifting aids for over 180,000 people who needed assistance with climbing stairs in their home. Bison was formed in the county Duram, England in 1981 when the company's founders realized that there was a niche market for stair lifts that were able to be tailored to the needs of individual users. Bison is currently ran and operated out of the United Kingdom. As of this moment, there are only two models of Bison stair lifts on the market.


Bison Stair Lifts: The Bison 50


The Bison 50 is the newest model of Bison stair lifts for straight staircases. The 50 model of Bison stair lifts is a remake of the very first stair lift ever released by Bison Bede. This lift will only function correctly when installed on a straight stair case. The main reason behind the Bison 50's popularity with consumers who live in homes with straight staircases because they want to save a little money. In comparison to the Bison 80, the 50 model of Bison stair lifts is much less expensive.


Bison Stair Lifts: The Bison 80


The 80 model of Bison stair lifts represents a major step forward in comfort and reliability for this company's product offerings. Incorporating many of the characteristics of the Bison 50 model, the Bison 80 is truly in a class of its own. This industry leading product provides customers with a variety of options and accessories. Using the latest technology and Bison's modular rail concept, the Bison 80 has been developed to accommodate virtually all curved stair cases.

Engineering excellence ensures the 80 Bison stair lifts give users a comfortable, smooth ride along a slim rail with an attractive finish. The rail itself can be installed on either the inner or outer curvature of the staircase. The stylish yet robust design allows for plenty of access even on narrow stairs. Some customers have even compared these stair lifts to a piece of modern furniture. Designed with ease of use and comfort in mind, the Bison 80 is operated using a rocker switch located on the armrest.

The unique self-leveling transport system moves the seat along a single low-profile rail and automatically adjusts the speed and level of the seat while cornering the staircase. This feature provides an exceptionally smooth ride. The system's electronic programming ensures excellent performance with each and every trip. In addition, the 80 model of Bison stair lifts is battery powered, allowing additional peace of mind in the event of a power outage.

The footrest of the Bison 80 ends extremely close to the ground floor and has no step. Because it ends level with the top stair, users have easy access to the landing. When not in use, these Bison stair lifts can be easily folded away. Thanks to their unique storage capability, the stairway will be accessible to other members of the household.


↑ Top