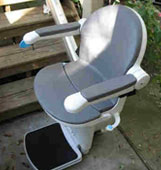 Sterling Stair Lifts
Now that the Baby Boomers are reaching their golden years, their mobility needs are changing. This generation is well-known for building successful careers, making enough money to live comfortably, establishing long-term residences, growing families and planning for their retirement years. But now that their bodies are aging, this age group has realized that they are facing a new set of challenges. Now, many of them lack the strength and flexibility they enjoyed in their younger days.

Another aspect that sets Baby Boomers apart from previous generations is their openness to new technology and their willingness to try different things. Home stair lift technology is really quite simple in terms of technological advancements. This technology allows people access to all rooms in the home regardless of how many stories the house has. For people who have difficulty walking and climbing staircases, stair lifts can be lifesavers. In a matter of moments, the user can reach the bottom floor to the top floor and back again.


Sterling Stair Lifts by Handicare


Sterling stair lifts are distributed by Handicare. This company specializes in mobility products and is based out of Allentown, Pennsylvania in the United States. Their wide range of support services can assist those with mobility problems so they can enjoy full access to their residence. In addition, Sterling stair lifts are known for being stylistically appealing and enhancing the overall look of the space.

Handicare offers quite a few stair lifts so choosing the right one for your needs may be difficult. Currently, the four best Sterling stair lifts are the 950, 1000, 1000 Outdoor and 2000. Find out more about the various Sterling stair lifts in order to make the best choice for your home.


Models of Sterling Stair Lifts


The Sterling 950 is one of the company's most basic models. This stair lift is suitable for straight staircases and comes at an affordable price. While this model has optional extras, the offerings are quite limited. These Sterling stair lifts are compact, have a slim rail and a fold-up seat, making them unobtrusive in any setting. These lifts are also easy to use and maintain.

The Sterling 1000 has a lot of similarities to its 950 counterpart. However, these Sterling stair lifts offer more extra features. There is also the choice of optional seating arrangements like the Perch seat, the Half-Size seat and the Luxury seat. In addition, Sterling 1000 lifts can be installed on narrow staircases. A lot of consumers enjoy the 1000's synchronized power swivel that comes optional with the chair.

For people with curved staircases, the Sterling 2000 is a great choice. These Sterling stair lifts are stylish and elegant. Buyers have the choice of several different upholstery options. Each 2000 model has a double-bar rail.

The final stair lift is the Sterling 1000 Outdoor model. This lift is specially designed for outdoor use. The seat and carrier are rust-proof and coated to protect them against the elements. When not in use, the owner can use the protective cover to shield the device from dust, mud, rain and wind.


↑ Top