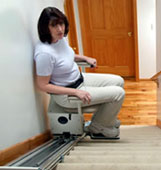 Stair Lifts 101
If you are in the market for a stair lift, you probably have a lot of questions about these special mobility devices. In order to find out what you need to know, read the following stair lifts 101 facts. These stair lifts 101 facts answer many of the most commonly asked questions of stair lift customers.


Stair Lifts 101: Does the Type of Staircase Determine the Style of Stair Lift?


Stair lifts can be designed to fit most staircase configurations. When it comes to staircases, straight ones are the most easy to accommodate. Spiral and curved staircases are more difficult and expensive to fit. Most straight stair lifts hover around $2,000 USD while curved units can cost anywhere from $15,000-$20,000 USD. People who have mid-landing staircases may need to purchase a double stair lift. Double lifts consist of two chairs, one for each section of the staircase.


Stair Lifts 101: Is There a Lot of Remodeling Involved in Stair Lift Installation?


For the most part, the answer to this question is no. Stair lifts offer physically challenged people a way to access all areas of their home without having to compromise the integrity of the home's architecture. However, it there is no electrical outlet near the staircase, one may need to be installed.


Stair Lifts 101: What Is the Maximum Weight Capacity of a Typical Stair Lift?


This question is perhaps the most common one asked by potential buyers of stair lifts. Most people are surprised to learn that the typical stair lift is able to accommodate a user who weighs up to 350 pounds. However, those who weigh more than 350 pounds can order a custom-made stair lift that can hold a user who weighs a maximum of 500 pounds. However, be aware that the specific weight capacity will depend on the actual model of stair lift.


Stair Lifts 101: Are Stair Lifts Difficult to Install?


In most cases, stair lift installation is a straightforward process. Approximately 90 percent of stair lift customers install their own lift. People with handyman skills can have a stair lift up and running within one day. This time frame usually applies to cable drive systems like those made by Harmar and Summit. When it comes to rack and pinion drive systems, such as those from Bruno and Acorn, installation will take a lot longer.


Stair Lifts 101: Are Stair Lifts Safe to Use?


All stair lifts must meet stringent safety requirements just like automobiles. One standard safety feature is the seat belt. With a belt, the passenger will stay secure while in movement and when the unit stops. Obstruction sensors have now become another standard stair lift feature. These sensors will force the chair or platform to stop if it detects an object in its path. Some units may have a locking swivel seat that keeps the seat from twisting when getting on and off the chair. With a locking swivel seat, the risk of slipping off the chair is greatly reduced. This mechanism can be controlled with a push of a button.


↑ Top