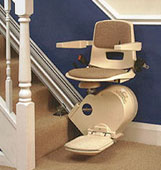 Brooks Stair Lifts
Brooks Stair Lifts has a unique company history. The devices made by this company were created by a man named Frederick Brooks. Brooks once worked as a Daimler engineer before going into the stair lift industry. The change in careers was prompted by his wife's rheumatoid arthritis, which made it difficult and painful for her to climb up and down their staircase.

Her suffering gave Brooks the idea to create a mobility device that would assist his wife with this task. Although his initial design consisted of a nylon rope as its drive system, the invention was quite intelligent. From there, the company, Brooks Stair Lifts, was born in 1973.


Brooks Stair Lifts in the Modern Market


Since the 1970s, Brooks stair lifts have experienced an extensive amount of growth. Even though stair lift technology has taken off, this company keeps true to its original design. As a matter of fact, Brooks only manufacturers one model of stair lift, which is designed for straight staircases. This lift is known as the Lincoln model.


The Lincoln Brooks Stair Lifts


The Lincoln is the only model produced by Brooks Stair Lifts. The Lincoln is renowned for being durable and reliable without needing a lot of maintenance. This mobility device is designed to be powered from a DC battery pack that is automatically charged after each trip up and down the staircase. Thanks to the DC battery pack, Lincoln Brooks Stair Lifts run smoothly and make very little noise. Even in the event of a power outage, the Lincoln can be used.

These Brooks stair lifts are very safe and easy to operate with their simplistic stop and start buttons. All of the movement functions are accessible via a joystick/remote control combination. Another great feature of the Lincoln Brooks Stair Lifts are the code displays. Each code signifies a specific problem, which allows the technician to easily identify and repair the issue.

In terms of weight capacity and design, Lincoln Brooks Stair Lifts are slim and can hold users who weight a maximum of 280 pounds. These stair lifts operate off low voltage power in order to prevent users from being shocked. Like most other chair lifts, the Lincoln has a footrest, seat and armrests. There are also five sensors located at various points on the machine in order to stop the lift if it is blocked by a person or object; three sensors are integrated into the footrest and two can be found inside of the seat. The seat on the Lincoln lift swivels, rotates and locks in order to ensure a safe landing.

As stated earlier, Lincoln Brooks Stair Lifts are made to be one-of-a-kind while incorporating standard lift technology like safety sensors, DC battery packs, stop and start buttons and digital diagnostic displays. Other features that make this stair lift a great buy include a remote control/joystick combination, stand and sit options, an inertia-reeling seat belt, swivel seat and foldable footrests and armrests. All of these features combined make Brooks Stair Lifts a durable, reliable, safe and comfortable stair lift model.


↑ Top