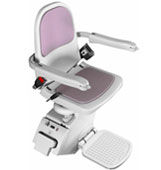 Cost of Stair Lifts
Stair lifts are mobility devices that the elderly and handicapped people use to go up and down staircases without needing help from others. With one of these devices, physically challenged people can enjoy more normalcy in their life and have full access to their home. Staircase lifts are equipped with many features in order to provide comfort and convenience to their users. However, the cost of stair lifts is steep, especially when buying a brand new model. There are a few factors that determine the cost of stair lifts.


Cost of Stair Lifts: The Design


The design will play a role in the cost of stair lifts. And there are quite a lot of different designs on today's market. However, the most commonly purchased type is the straight staircase lift. These lifts are installed on a rail system mean to align with straight staircases. Including the installation, the typical cost of stair lifts for straight staircases is approximately $3,000-$4,000 USD.

People that have curved staircases can also use a stair lift in their home. Curved stair lifts are also available from many lift manufacturers. These lifts will be customized to fit the particular staircase. Unlike straight lifts, curved lifts are harder to install and more expensive. Also, it is nearly impossible to purchase a curved lift that is reconditioned or used because these units are customized to the particular customer's stairway. The cost of stair lifts that are curved can reach up to $15,000 USD.

There are also inclined stair lifts. These lifts are generally meant for public and commercial use although they are sometimes seen in private homes. These lifts can cost anywhere from $4,000-$7,000 USD, depending on how they are configured.


Cost of Stair Lifts: The Condition


People who have to work with a tight budget may want to think about buying a used stair lift. Pre-owned stair lifts can save a lot of money in comparison to brand new models. When one figures in the expense of installation, they can buy a second-hand lift anywhere from $500-$2,000 USD, depending on the particular model and age of the unit. However, it is recommended to be cautious when shopping for used stair lifts. Sometimes, the cost of replacement parts and maintenance can be more expensive than the cost of buying a brand new model.


Cost of Stair Lifts: The Manufacturer


The price of a stair lift is also influenced by the manufacturer of the particular model. In terms of the manufacturer, the model will be more expensive if it is popular. But there are a few companies that will give customers discounts and suggestions on how to get a unit at the cheapest price possible.

The above-mentioned factors will assist you in comparing and figuring out the cost of stair lifts so you can get the right model for your needs. Keep in mind there may be other variables that play a part in the overall cost, such as additional innovations and features as well as the services offered by the company from who you are buying a lift.


↑ Top