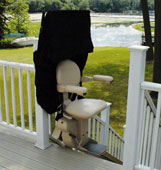 Outside Stair Lifts
Many people who live in multiple-story houses deal with injuries and mobility problems they could not foresee. Because of these issues, they are confined to the main level of their home. For these people, the simple act of climbing a staircase is too physically demanding. But when the main level of their home is raised above the street surface, leaving the house can be problematic. And for many people, moving to a one-level home is simply not an option. Outside stair lifts can solve this issue.


What Outside Stair Lifts Can Do for You


Outside stair lifts can rescue you from a lifetime of indoor confinement. With one of these devices, you can go outdoors. These lifts are designed to mount to the existing stairs on a porch or other outdoor area. Using outside stair lifts will allow you to reach the top of the porch to the bottom of the stairs without any assistance.

However, you need to consider some of the important features of outdoor stair lifts before rushing out to make a purchase. Doing so will ensure you choose the right device for your needs. A few of the features you should look for include weatherproof material, safety sensors, quiet operation and easy installation.


Weatherproofed Outside Stair Lifts


Outside stair lifts must absolutely be coated and treated to prevent damage from the natural elements. While indoor units do not have to be treated, outside ones do because of the rain, sand, dust, snow, wind, hail and sun. Quality-built outdoor units will come with some type of weatherproof guarantee. For instance, the rail should be made of a non-corrosive aluminum.

Furthermore, the device's chair should have UV-resistant padding and fabric. Besides these necessary features, is can be a great benefit for the outdoor lift to come with a chair cover. This cover can be put on the device when it is not in use in order to prevent dirt and sand accumulation as well as wind and rain damage.


Outside Stair Lift Safety Sensors


Just like dust can scatter when strong winds blow, larger objects can also be moved by the wind. This is where safety sensors come into play. On outside stair lifts, safety sensors are designed to keep the chair from malfunctioning in the event an object comes into contact with the lift's path.


Noise Levels and Installation of Outside Stair Lifts


Chances are, you do not live in a secluded, rural location where your nearest neighbors are miles from your home. Those who have neighbors must be respectful of the "quiet enjoyment" of their homes. Therefore, you do not want to choose an outdoor stair lift that makes a loud, obnoxious noise. The quieter the unit, the better.

Virtually every stair lift vendor will give their customers a lift package that includes in-home installation. This feature is necessary unless you plan to handle the installation yourself or hire an experienced handyman to do it. No matter what you decide, it is always a good idea to order an installation manual just in case. And try to choose a model with the most easy installation instructions.


↑ Top