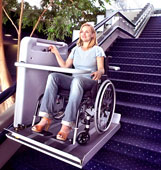 Platform Stair Lifts
Platform stair lifts, also referred to as perch stair lifts, are a particular style of stair lift that is used to carry people between various levels of a building. These stair lifts have a lot of similarities to traditional lifts; however, platform stair lifts require the user to stand on top of a platform instead of sit in a chair. These devices also come equipped with grip handles for extra safety.


Deciding Between Chair and Platform Stair Lifts


Some people have difficulty standing while other people find it painful to sit down. Either way, there is a stair lift design that is meant for their specific needs. Some people find it easiest to simply step on a stair lift and go up and down the staircase. Other people simply feel that standing is the most comfortable position. The user's doctor can help them figure out what kind of stair lift is the best.


Where to Install a Platform Stair Lift


The installation process for platform stair lifts is no different than that for standard lifts. They can be mounted onto a straight staircase or on one with curves and angles. However, each kind of staircase will require certain parts and approaches. The most purchased kind of stair lift is one made for straight staircases. Although some homeowners can install their own lift, it is recommended to seek the help of a professional.

No matter what lift you choose and how you decide to install it, the device can give you the freedom to reach all levels of your house. Platform stair lifts are an excellent alternative to moving to a one-story home or staying at an assisted care facility. Of course, the cost of a platform lift will vary according to the model's features.


Inclined Platform Stair Lifts


There is a sub-type of platform stair lift specifically designed for wheelchair users in mind. Inclined platform stair lifts are a great idea for residential houses as these houses cannot accommodate the vertical lifts that are typically seen in commercial settings. Just like regular platform lifts, inclined platform stair lifts can be put on a pre-existing staircase that is curved or straight. There are models made for indoor and outdoor use, all of which are sturdy yet lightweight.

The most practical use for inclined platform lifts are when there is only one step between the lift and the ground. These devices can be attached to a fence or wall. When used outdoors, these lifts give wheelchair users an easy way to get in and out of their house without help.

When used indoors, they can also take wheelchair-dependent people from one story to the next. The lift owner will not have to pay for extensive renovations. They also have the option of installing the lift on the outside or the inside of the stairway. Most models have a foldable platform to save space when not in use. Depending on the particular model, inclined platform stair lifts either operate off of electricity or battery power.


↑ Top