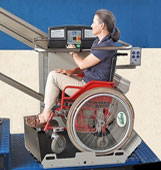 Stair Lifts for Wheelchairs
Stair lifts for wheelchairs can be highly beneficial to people who are disabled because they allow them to reach places in their home they could not otherwise. In comparison to other mobility devices, like elevators, stair lifts for wheelchairs are not as expensive and do not necessitate as many home structural modifications. They are also cheaper and easier to install because these stair lifts utilize the existing staircase. The majority of lift models are compatible with most staircases.


Installing Stair Lifts for Wheelchairs


If you get stair lifts for wheelchairs installed, you will pay anywhere from $2,000-$4,000 USD in regards to a straight staircase lift. These units fit stairways that do not have any bends or curves. You should expect to pay around $5,000 USD or more for a curved or mid-landing staircase because the installation requires more work. You will need to schedule an appointment with an inspector from the stair lift company in order to survey the work; they will be able to give you a quote at that time.


The Drive Systems of Wheelchair Stair Lifts


Today's stair lifts for wheelchairs come equipped with one of four various drive systems. However, the most common system is the rack and pinion. The majority of residential stair lifts for wheelchairs will have a rack and pinion as their drive system. These systems mainly consist of teeth and gears. Earlier models required regular cleanings and gear oil replacements. But modern rack and pinion systems need very little maintenance.

Some models contain a cable drive system. With a cable drive system, strong steel cables are used to secure and move the device. Unfortunately, cable systems have a few disadvantages, such as not operating as smoothly as other stair lift systems. Summit and Ameriglide are two brands that are well-known for their cable-system stair lifts.

Heavy-duty, commercial stair lifts for wheelchairs may use a chain drive system. This system is quite noisy; therefore, it is not recommended for residential homes. The final system, called the screw drive, is also used in commercial settings. The lifting mechanism on these devices has screw-driven actuators, which obtain power from rechargeable batteries.


Powering Stair Lifts for Wheelchairs


In the beginning of the history of stair lifts, manufacturers utilized AC power. But today, the industry powering standard is the 12-volt DC rechargeable battery. The 12-volt batteries are preferred because they do not require trailing cables like stair lifts that are powered from AC.

An additional advantage to these batteries is they allow the stair lift to be used even when the power is out. However, some states in the United States require a certified professional to install these devices. Therefore, you need to find out the particular laws in your state before deciding to install a wheelchair stair lift yourself.


A Few More Wheelchair Stair Lift Features


Depending on the particular brand, stair lifts for wheelchairs give people a choice between swivel-seat angles of 90 degrees or 180 degrees. Most models are also equipped with an integrated circuit board. This circuit board can diagnose internal problems within in the motor, cutting down on user maintenance costs.


↑ Top