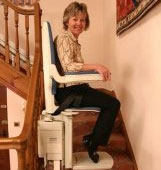 Albuquerque Stair Lifts
A stair lift is a priced tool for people with limited mobility as it allows them to manage the stairways without too much effort. If you or a loved one has mobility problems, you should consider installing your Albuquerque home with a stair lift system. Albuquerque stair lifts suppliers are just a call away to help you with your stair lift needs.


Where to Find Dependable Stair Lift Suppliers in Albuquerque


A number of companies provide stair lift services to customers in Albuquerque, New Mexico. The service they provide range from stair lift sales, installation to maintenance. Check out some of the reputable Albuquerque stair lifts suppliers.

• Able Access Lifts & Elevators – they specialize in residential and commercial stair lift installation and maintenance. Other services include home elevators, wheelchair lifts, ceiling lifts and dumbwaiters. They service across New Mexico State. You can visit their office at 4021 Barbara Loop Southeast, Rio Rancho, NM and contact them over (505) 891-0144 or send them an email at service@ableaccesslifts.com.

• Highland Conversions LLC – they sell a wide range of mobility equipments which include stair lifts, whether new, used or rentals. They are located at 417 Adams Street Southeast, Albuquerque, NM, with contact number (505) 232-8629; toll free hotline 1-888-367-4711; and email address lifts@swcp.com.

• Southwest Lift Installation – they sell, install and service stair lifts and other mobility devices. They are found at 315 Juan Tabo Blvd NE # B, Albuquerque, NM, with contact number (505) 891-3346.

• New Horizon Vans, Inc – they sell and service stair lifts and other mobility lift systems like wheelchair lifts and scooter lifts. They also modify vehicles to adapt to driving needs and wheelchair access. Their office is located at 3219 Candelaria NE, Albuquerque, NM, with contact numbers (505) 884-2492 and toll free number 1-866-458-0445.

• Home Elevators of New Mexico – they specialize in service and maintenance of residential elevators and stair lifts as well as dumbwaiters, wheelchair lifts, hillside trams and ceiling lifts. Located at 139 Bayshore Dr, Amarillo, TX. They service the metro of Albuquerque as well as other cities such as Las Cruces, Santa Fe, Clovis, Taos, Farmington and Las Vegas, NM. You can call their toll free number at 1-800-622-5772.


How to Fund Stair Lift Services in Albuquerque


Shopping for Albuquerque stair lifts can be overwhelming. That is why you need to get sound advice in choosing the one that will achieve your purpose especially when working on a tight budget. Fortunately, financing options for stair lift service in Albuquerque are available from various sources.

• Albuquerque stair lifts provider – discuss with your chosen provider about easy-to- manage financing options for your stair lift service.

• Assistance technology programs for the disabled – they offer financing loan programs and grants to help people with disabilities purchase assistive technology equipment like stair lifts. You may contact the New Mexico SeedLoans Project Coordinator at (505) 366-8192 or email them at maestaslarrylar@comcast.net . You might as well visit their office at 5010 Eakes Rd. NW Albuquerque, NM.

• Federal Programs for House Modifications – you may contact the Department of Family and Community Services in Albuquerque at (505) 768-2745 to apply for CDBG which help finance stair lift installation. New Mexico Area Agencies on Aging also offer similar programs or grants which you can apply for. Give them a call at (505) 924-3641 for further details.


↑ Top