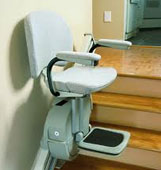 Omaha Stair Lifts
If you're tired of getting assistance from everyone else just to get upstairs, then you must consider installing a stair lift mechanism into your Omaha residence. Getting your much-needed stair lift service is easy with Omaha stair lifts providers willing to help you.

You may find shopping for a stair lift service a bit overwhelming and confusing if you don't know what you want. Aside from doing some research, it is best to seek help from dependable Omaha stair lifts suppliers to figure out what suits you best. Their home evaluation is totally free of charge which ensures that you get most of your stair lift investment.


Ways to Finance Stair Lift Service in Omaha


A lot of people actually need financial assistance to fund the installation of mobility aids like stair lifts. Where can you find them in Omaha?

• State Assistance Technology Program – this is a statewide program enforced by the federal government to help people with disabilities and the elderly fund the acquisition of assistive technology aids. You may call the office of Assistive Technology Partnership in Omaha, NE at (402) 595-1923 or 1-877-201-4141 (toll free).

• Area Agency on Aging – they have financial programs and grants to fund home upgrades. Contact Eastern Nebraska Office on Aging at (402) 444-6536 or 1-888-554-2711 (toll free) for further details.

• Community Development Block Grant – this program helps finance home modifications or rehabilitation. Contact the Department of Planning in Omaha, NE to apply for their loan program at (402) 444-5170.

Aside from the aforementioned federal agencies, part of the cost of your stair lift installation could be deducted from your tax. Also, most Omaha stair lifts providers offer financing plans to suit your budget allocation.


Where to Buy Stair Lifts in Omaha


Omaha stair lifts suppliers are scattered across the area as well as neighboring cities. Their services extend from sale to repair and maintenance of stair lifts.

• Access Elevators & Lifts –provides a wide range of mobility solutions for residential and commercial purposes, and specializes in ramps, chair lifts, home elevators, wheelchair lifts and stair lifts. They are located at 930 S. 48th Street, Omaha, NE. You can contact them through phone at (402) 553-7000 or email them at info@accesselevatorinc.com.

• Kohll's Pharmacy & Homecare – Omaha-based family-owned company which offers mobility solutions and residential modifications such as stair lifts, bathroom modifications, ramps, ceiling track systems and vertical platform lifts. Kohll's is also a premier supplier of medical supplies in Nebraska. Their office is located at 620 N114 Street, Omaha, NE, with telephone numbers (402) 408-0020, (402) 408-0012, Toll-Free Number 888-733-0300, and email address Jkohll@kohlls.com.

• Siebert Mobility Inc – sells a wide range of handicapped accessible vans, conversions, minivans as well as accessibility equipments including stair lifts. Visit their office at 302 Fulton Ave., Plattsmouth, NE, or call them at (402) 296-5000 or 1-866-482-8911 (toll free).

• Complete Access – they specialize in sales and service of stair lifts and wheelchair lifts with office at 10938 Emiline Street, La Vista, NE; phone number (402) 592-9388 and email address Info@completeaccess.org.

• Nebraska Scooter Mart LLC – offers full service for all your mobility needs like ramps, walkers, scooters and stair lifts. Located at 415 N 66th St # 1, Lincoln, NE, with contact numbers (402) 464-3900 and toll free hotline 1-800-420-3455.


↑ Top