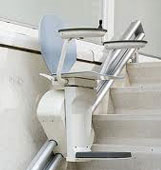 Philadelphia Stair Lifts
Has going up and down the stairs become a real challenge for you? If so, then you'd better buy a stair lift to eliminate such obstacle and make managing the stairs a whole lot easier. If you live in Philadelphia, there are many Philadelphia stair lifts suppliers to accommodate your needs.

Before calling the local Philadelphia stair lifts suppliers for your stair lift needs, there are several points you must consider to ensure that you make most of your stair lift investment. One of which is the costs of the stair lift and set-up which could present a problem especially if you can't afford purchasing new lifts. In this article we will consider different ways to finance stair lift installation, how to arrange for stair lift service and find local stair lift suppliers in Philadelphia.


How to Fund Stair Lift Service in Philadelphia


Your Philadelphia stair lifts supplier will be glad to help you develop a payment plan to accommodate your financial situation. Also, if a new unit is just too costly for you, you may opt for reconditioned, used or even rental stair lifts. Moreover, there are federal programs which provide assistance on the acquisition of assistive technology devices like Pennsylvania's Initiative on Assistive Technology (PIAT). Give them a call at (215) 204-3330 or you may visit their office at 1755 N. 13th Street Philadelphia, PA. You may also contact the Area Agency on Aging in Philadelphia at (215) 765-9040 to qualify for Senior Housing Assistance Repair Program (SHARP) which provides funds for home repairs and upgrades.


Arranging a Stair Lift Service in Philadelphia


Call a reputable stair lift company in Philadelphia for free home evaluation. Divulge to them your stair lift needs and ask questions about their services including payment plans if necessary. Get at least three stair lift quotations from different Philadelphia stair lifts suppliers. Once you've chosen you stair lift supplier, book your stair lift service and pay the initial deposit. After which, your stair lift supplier will schedule the stair lift installation date. A good stair lift company must provide services even after installation which include repair and routine maintenance check up to ensure that your stair lift is in top running condition.


Philadelphia Stair Lifts Suppliers


• Stair-Tec Inc. - offers specialized and prompt stair lift service and maintenance. They are located at Station Avenue, Bensalem, Pennsylvania. You may call them at (215) 639-7333 or email them through info@stair-tec.com.

• Pennsylvania Stair Lifts Inc. – a stair lifts specialist that sells and install stair lifts as well as provide routine stair lift maintenance. They also offer stair lift rental as well as sell used and custom-made lifts. You may visit their office at 1210 Swamp Rd, Suite 9 Fountainville, Pennsylvania with contact number (215)345-0800/ toll free 1-877- 257-0456.

• Independent Home Solutions – the company offers new, used and for rent stair lifts whether outdoor, indoor, straight or curved. It is an authorized dealer of Bruno Stairlifts and located at 305 West State Street, Kennett Square, PA with telephone number (717) 626-4401 and email address: info@yourIHS.com.

• E J Stairlifts & Medical Supply – they provide and service new and used stair lifts and other mobility equipments and hold their office at 16 Johanna Drive, Southampton, PA with contact number (215) 942-9263/ toll free 1-866- 356-3348.

• INTERSTATE LIFT – specializing in stair lift installation and servicing with address at 4726 Blakiston Street, Philadelphia, PA. You may contact them at (215) 335-7940 / (215) 501-7156 / toll free 1-888-284-1896.


↑ Top