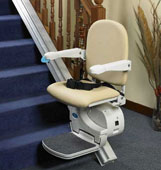 San Francisco Stair Lifts
Stair lifts or chair lifts are affordable solutions in overcoming home difficulties of loved ones with impaired mobility. San Francisco stair lifts suppliers have provided San Francisco residents a more secured and safer living.

Losing the ability to walk or move freely, whether temporarily or permanently, is really a very painful experience. Some may even go through deep depression. One way of helping them cope is by letting them strive on their own. Rather than moving into a one storey house, why not just install a stair lift device. By this, your love one can still easily move around the house with minimal assistance only.


Stair Lift Companies in San Francisco


Here are some of the San Francisco stair lifts companies you can get in touch with.

• Stairlifts in San Francisco - Top Supplier of Stairlifts in San Francisco

• Allure Mobility & Medical Supply
851 Van Ness Ave, San Francisco, CA 94109
(415) 447-0000
Services: Sells, rents and repairs medical equipment; provides free delivery and installation of chair lifts and other services.

• Ascent Elevator Services
1555 Yosemite Ave Ste 13, San Francisco, CA 94124
(415) 671-4900
Services: Sells, installs, repairs, and maintains stair lift products and services.

• Accessible Home Lift Company
2324 Eagle Ave Alameda, San Francisco, CA 94501
(510) 521-9526
800-606-1115
Services: Sells new and used stair lifts; provides free assessment; installs, maintains and repairs stair lifts. They can also provide service or repair for homes that have stair lifts already installed.

• Access Solutions
P.O. Box 483 Moss Landing, CA 95039
(831) 423-9950
Services: Provides free no-obligation consultation services. Sells and install stair lifts products and services.

• San Francisco Bay Stair Lifts
907 Hollywood Way, Burbank CA
(800) 233-7382
Services: Offers new and used stair lift products. An authorized dealer of almost all stairs lifts manufacturers (Acorn, Bruno, Harmar and Summit).


San Francisco Stair Lifts Prices


Standard prices of San Francisco stair lifts range from $1,500 to $4,000, but you can expect the price to get as high as $15,000 depending on the model and additional features. Used stair lifts can be between $300 and $1,500 off from the original price, while rental charges start from $50-$100 a month excluding the installation and removal cost.


Funding Sources for San Francisco Stair Lifts


Most families find these equipments very expensive and it's very fortunate for those who have insurance companies who cover such medical needs. Those who don't can check their Medicare or Medicaid insurance policy for qualification. But don't expect much as Medicare doesn't really see stair lift equipments necessities so go for other local organizations. Many organizations are available depending on the cause of mobility problems, such as old age or physical disability. Some of these organizations can grant loans to low income individuals, especially to the elderly and people with disabilities.

There are many stair lift companies that offer services throughout the United States so before checking them out, try calling the local San Francisco stair lifts companies first. Some can provide rentals or sell new and used stair lifts and give free consultation or home assessment. Go for companies near your area, then ask for their price range and compare that to your budget and to other companies' prices. Choose the company that provides the best deal.


↑ Top