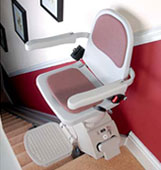 San Jose Stair Lifts
Do you need assistance in traversing the stairs? You would definitely want to have a stair lift installed in your San Jose home. Luckily, finding a San Jose stair lifts supplier to do the job is hardly challenging.

San Jose stair lifts have become a popular addition to senior homes as they have become priceless tools that help elderly people access the upper levels of their homes safely and easily. Though, physically incapacitated people also benefit from using stair lifts. If stair lift installation is new to you, then this article will help you out, from choosing the right stair lift to locating stair lift providers in San Jose.


Choosing the Right Stair Lift Device in San Jose


Decide whether you need stair lifts indoors or outdoors. Also, the physical capabilities of the user must be considered in order to determine the features that will work best for him or her. Moreover, evaluate the style and size of your staircase at home and figure out the power condition in your area. If power interruption frequently occurs, battery-operated or DC units might be more appropriate.


Arranging a Stair Lift Service in San Jose


Booking your San Jose stair lifts service is relatively easy. Contact a reputable stair lift provider in your area and ask for a stair lift quote. Prior to giving you a quote, they will conduct an in-home visit to assess your stair lift needs. It is best that you get at least three quotes from different suppliers. Confirming your stair lift service may involve paying an initial deposit. Setting up the stair lift will follow days later. Stair lift installation will cost you around $4,000 for straight lifts and up to $15,000 for curved lifts, and usually with 12-month warranty.


Funding Stair Lift Service in San Jose


There are numerous ways to facilitate a stair lift purchase in San Jose. Check out some of them.

• Council on Aging Silicon Valley – this is California Area Agency on Aging program in San Jose which may have programs to assist in the stair lift installation cost. They are located at 2115 The Alameda San Jose or call them at (408) 296-8290.

• Department of Housing – San Jose – aside from CDBG program which provides assistance on home modifications, the Housing Rehabilitation Programs have grant programs which offer financial and technical assistance for house upgrades or repairs to make it safe and accessible to senior residents. You may visit them at 200 East Santa Clara St. San Jose with phone number (408) 535-3860.

• Silicon Valley Independent Living Center (SVILC) – they offer assistive technology loan program to help fund electronic and mechanical equipment to people with disabilities. Their office is located at 2202 N. First St. San Jose with phone number (408)894-9041.


Places to Buy Stair Lifts in San Jose


• Stairlifts in San Jose - Top Supplier of Stairlifts in San Jose

• Bay Area Mobility
4075 Evergreen Village Sq, San Jose or contact them at (408) 418-5078.

• Pacific Access Contractors
2860 Spring St #7, Redwood City, CA. Contact number: (650)364-5722.

• Mobility 4U
4636 Schlosser Court, Castro Valley, CA. Contact number: (510) 581-6759.

• Home Safety Services Inc
1169 Chess Dr #D, Foster City, CA. Contact number: (650) 571-7774;
Toll Free: 1-888-388-38114; Email: pros@homesafety.net


↑ Top