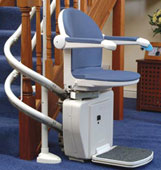 Portland Stair Lifts
If you're having a hard time tackling the stairs, have you considered installing a stair lift? If not, why? Are you worried about the cost? Or, don't you know where to find them? In that case, you'll find this article very useful as it aims help you locate Portland stair lifts suppliers near you.


Where to Find Stair Lift Companies in Portland


Finding Portland stair lifts suppliers is not as difficult as you think. In fact, a lot of reputable stair lifts providers are servicing the Portland area. Here are some of them.

• DiGregorio Stair Lifts – this company is a premier provider and installer of stair lifts in Portland as well as the neighboring areas. They are located at 1556 SE Sherrett Street, Portland, OR, with phone number (971) 409-0641.

• All in One Mobility, Inc. – a one-stop shop for all your mobility needs including stair lifts; with office at 12833 Northeast Airport Way, Portland, OR. You can reach them over (503) 255-5005.

• Northwest Elevator Company – they provide stair lift service and maintenance with address at 7216 SW Durham Rd, Ste 900 Portland, OR. You can contact them at (503) 639-7045.

• Elevator Solutions Inc – sells, installs and services stair lifts. They are at 6354 North Greeley Avenue, Portland, OR; with phone number (503) 285-4222 and email address Candacebarr@peoplepc.com.

• David Bearson Construction – specializes in accessibility equipments with office at 1031 SE Mill, Portland, OR. You may contact them at (503) 233-6422.


How to Book a Stair Lift Service in Portland


Now that you've found the nearest Portland stair lifts supplier in your area, arranging a stair lift service is just one phone call away. Once you've contacted a stair lift supplier, they will conduct an in-home visit to evaluate your particular stair lift needs. After which, they will furnish you a formal quotation for stair lift installation and may require you to pay an initial deposit before they install your stair lift.


Stair Lift Installation Cost in Portland


The cost basically depends on several factors such as the type of stair lift, features and whether it is battery-operated or not. Most likely, it will cost you over $4,000 for straight lifts, while curved lifts are way expensive and will cost up to $15,000. The price only covers the installation with 12 months warranty; repairs and maintenance after the warranty may mean additional cost.


How to Finance a Stair Lift Service in Portland


Certainly, there are other ways to help you finance a Portland stair lifts service. Contact the Bureau of Housing and Community Development in Portland at (503) 588-6178 on how to qualify for Community Development Block Grant program which helps finance home modifications. You can also check with Oregon Association of Areas Agency on Aging & Disabilities for home rehabilitation at (503) 463-8692, or email them at info@o4ad.org. Also consider the Multnomah County Home Aging and Disability in Portland. Their contact number is (503) 823-4000, and email address cityinfo@ci.portland.or.us. You may also inquire from Access Technologies, Inc. at (503) 725-8395 or through their toll free hotline 1-800-677-7512 or email them at info@accesstechnologiesinc.org, as they offer loans for the acquisition of assistive technology devices.

Securing a Portland stair lifts service is quite easy as long you select a reliable stair lift supplier and know where to turn to for help to finance the stair lift installation.


↑ Top