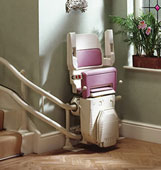 Las Vegas Stair Lifts
If you're having difficulties getting upstairs, then it's high time for you to consider installing a stair lift in your Las Vegas home. Las Vegas stair lifts suppliers can help you find the stair lift that perfectly suits your needs.

Actually, stair lifts have become popular add-ons to senior homes in Las Vegas as well as in some private homes with an elderly or a handicapped family member, primarily because they allow people with limited mobility traverse the stairs safely. You might wonder where and how to arrange for a stair lift service in Las Vegas. You may also want to know if it's still possible to get a stair lift service even if you only have a limited budget. Let us consider each one of them.


Where to Buy Stair Lifts in Las Vegas


Las Vegas stair lifts providers can be found within the Las Vegas area. Contact the nearest supplier for your stair lift needs.

• Better Life Mobility Centers – they provide service and repair of mobility equipments including stair lifts. Their office is located at 2695 S Decatur Blvd Suite 100, Las Vegas, NV with contact number (702) 876-9606.

• ACME Home Elevators – they sell, install, service and even custom-build stair lifts and other accessibility lifts; with address at 6390 Montessori Street, Las Vegas, NV. You can reach them over (702) 293-4601 or call their toll free hotline 1-800-888-5267.

• Everything Medical – they sell and install stair lifts; with address at 1811 W Charleston Blvd #2, Las Vegas, NV. You may call them at (702) 366-1111 or through their toll free number 1-800-521-8844.

• Ability Center – they offer stair lift services and maintenance, with address 6001 South Decatur Blvd Suite N, Las Vegas, NV. You may call their toll free hotline 1-866-405-6806 for your stair lift needs.


How to Arrange a Las Vegas Stair Lifts Service


Arranging a stair lift service involves calling a reputable Las Vegas stair lifts provider for a quotation. Usually, home assessment is done before they give you a quote for your specific needs. This will ensure that the right stair lift is installed into your home. Initial payment might be required to confirm your stair lift service and stair lift installation will take place on the following days.


How to Fund a Stair Lift Service in Las Vegas


Installing a stair lift does involve considerable monetary investment. And this presents a problem if you don't have sufficient budget to cover the cost. Don't despair, as help is within reach. Contact these agencies of the federal government to qualify for loan or financial assistance to help you with your stair lift purchase.

• Department of Neighborhood Development in Las Vegas to qualify for Community Development Block Grant for home upgrades at (702) 229-4960

• Nevada Assistive Technology Collaborative at (775) 687-4210 or email jrosenlund@adsd.nv.gov

• Division for Aging Services in Las Vegas at (702) 486-3545.

Aside from these, your Las Vegas stair lifts supplier might offer financing plans to make the stair lift service within your means. You can also deduct part of the expenses for your stair lift service from your tax.


↑ Top