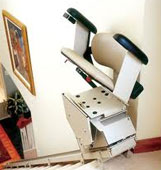 Nashville Stair Lifts
If you find the stairwell difficult to manage, a stair lift will eliminate this difficulty. Stair lifts have become a popular addition in some private and senior homes in Nashville. And there are plenty of Nashville stair lifts suppliers ready to serve you.

Cost is probably your top concern with regards to stair lift installation. If you have a straight stairwell, you have to spend around $2,000 to $4,000; while around $8,000 to $15,000 for curved stairwells. These figures only cover the entire installation cost and usually come with a 12-month warranty. Expect to spend more if you want additional coverage. Indeed, a stair lift requires a hefty investment, but you should know that you can even have it for less or pay just part of the cost. Read on.


Financing Stair Lift Service in Nashville


There are plenty of stair lifts financing options in Nashville. In fact, Nashville stair lifts suppliers have come up with financing options to make stair lift service easier on the pocket. Also, you can deduct part of your stair lift service cost from your tax. Moreover, statewide programs are enforced by the federal government to help physically challenged individuals acquire assistive technology devices through grants and loan programs. Qualifying for one of these grants may entail a huge task, but you should persevere for the rewards are worthwhile. Contact some of these federal agencies to apply for loan grants.

• Metropolitan Development and Housing Agency for Community Development Block Grant in Nashville – (615) 252-8404

• Technology Access Center in Nashville – (615) 248-6733 ; email at techaccess@tacnashville.org

• Greater Nashville Area Agency on Aging & Disability (GNAAAD) – (615) 832-8828

• Tennessee Technology Access Program – (615) 313-5183
Best Places to Buy Stair Lifts in Nashville
Reliable Nashville stair lifts suppliers can be found all over Nashville and neighboring cities. Here are some of them.

• Apple Independence Mobility – premier stair lift provider and installer servicing Nashville area with office at 1152 Pine Street, Lebanon, TN. You can contact them over (615) 292-5377 or their toll free hotline 1-866-316-6276.

• Homelift – specializes in stair lift service and maintenance; located at 3901 Charlotte Avenue, Nashville, TN with phone number (615) 385-5438 and toll free hotline 1-877-643-6210.

• Tennessee Mobility Inc. – sells, installs and repairs stair lifts, with address at 1015 South Water Avenue, Gallatin, TN. Call them over (615) 451-7373; toll free hotline 1-888-445-8033 or email them at info@tennesseemobility.com.

• Access & Mobility Inc. – offers stair lift service and repair; located at 173 Industrial Boulevard, La Vergne, TN with contact number (615) 533-1933, and email address woodsonk@accessandmobilityonline.com.

• Medical Mobility – mobility equipment specialist including stair lifts service; with office at 316 Blue Bird Drive, Goodlettsville, TN. Their contact number is (615) 851-1400.


Arranging a Stair Lift Service in Nashville


Booking your Nashville stair lifts service is pretty simple. Contact any of the stair lift supplier in Nashville and schedule for a home evaluation. It would be much better if you get at least three stair lift quotes from different suppliers. Once you've decided on the supplier that gives the best deal, confirm your booking with them and pay the necessary fees needed. After which, they will install your stair lift within few days.


↑ Top