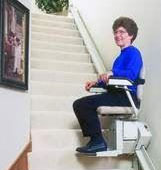 San Diego Stair Lifts
If you find that climbing the stairs has become a dangerous experience, you may have to install a stair lift system into your San Diego home. It's a good thing then that there are lots of San Diego stair lifts to choose from to accommodate your specific stair lift needs.

Stair lifts have become a popular addition to several multi-level homes and can be used both indoors and outdoors allowing you to move around the entire house without the fear of falling down the stairs. As useful it could be, many shy away from obtaining such device due to financing issues. Yes, a stair lift involves a huge investment, but there are some things you can do to get aid for your stair lift installation. Let's find out what these are.


Funding Options of Stair Lift Service in San Diego


If stair lift funding is your primary concern, then you should know that federal state programs are available to help you out. These programs are also enforced in San Diego.

• Area Agency on Aging – In San Diego, this is implemented under the program Aging and Independence Services. Check out their loan programs which you may apply for to assist you in financing the stair lift installation. AIS is located at 9335 Hazard Way Ste 100, San Diego, CA with contact number 1-800-510-2020.

• San Diego Assistive Technology Center (SDATC) – It is located in 6162 Mission Gorge Road, Ste F, San Diego, CA. They have loan programs to help disabled individuals and their families finance the purchase of assistive technology equipments. You may contact them at (858) 278-5420 or email at sdatc@ucpsd.org.

• California Assistive Technology Systems – This office is also worth checking as they may have grants and programs you can qualify for to finance the cost of stair lift purchase. You may call them at (916) 558-5786 or email them at bschlesi@dor.ca.gov.

• CDBG – San Diego – Contact this office at (858) 694-8724 to apply for loan grants to help you fund home upgrades like stair lift installation.
Aside from these, most San Diego stair lifts providers have payment plans to suit their clients' needs. Your preferred San Diego stair lifts supplier will surely be happy to help you in this regard.


Best Places to Buy Stair Lifts in San Diego


• ACME Home Elevator – premier provider of mobility equipments including stair lifts. They also provide custom-made lifts to suit your needs. Their office is located at 8305 Vickers St. San Diego with contact numbers (858) 565-1222 / toll free 1-800-888-5267.

• Ability Center – they provide and service stair lifts located at 4797 Ruffner St. San Diego with telephone numbers (858) 541-0552 / toll free 1-866-405-6806.

• Rifeco Home Elevators & Lifts – this San Diego stair lifts company offers stair lift service and maintenance with office at 8875 Costa Verde Blvd San Diego. You can reach them through (858) 678-8780 / (619) 994-3794.

• Better Life Mobility Center – also among the reputable stair lift provider in San Diego area located at 8130 Parkway Dr La Mesa, CA with contact numbers (619) 474-4072 / toll free 1-800-400-4072.

Booking for a San Diego stair lifts service simply requires calling a stair lift provider and they will assess your stair lift needs through home evaluation and install the lift that suits your customized needs.


↑ Top