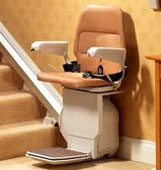 Miami Stair Lifts
If you're planning to get a stair lift service for yourself, a relative or a friend, Miami stair lifts suppliers are ready to help you find the right stair lift system.

Stair lifts enable you or an infirmed loved one access all levels of your Miami home safely. In fact, they have become a popular feature among senior homes as well as private homes with immobile residents. Shopping for Miami stair lifts service can be overwhelming and you need sound advice not just in choosing the right lift but in finding ways to fund the installation or service as well. Yes, a stair lift system involves a sizable financial investment and sources are available to help pay for a stair lift installation.


Ways to Fund Stair Lift Service in Miami


There are several ways to acquire financial support for a stair lift installation in Miami. It takes a little patience in securing them but success is certain. Here are some funding options you can try.

• Federal loan programs for home rehabilitation – the federal government has programs that provide financial assistance for home rehabilitation and modification. Stair lift installation is covered by home rehabilitation; therefore, seek loan programs and grants that you may qualify for. These programs are available in Miami's Department of Community Development through CDBG program. Contact their office at (305) 416-1978 for details on how to apply. You can also check the Alliance for Aging, Inc. for similar financial grants at (305) 670-6500.

• Assistance Technology Program – this is a statewide program intended for people with disabilities to gain access to assistive technology devices by means of device loan programs. You can check the Florida Alliance for Assistive Services and Technology (FAAST) to apply for such program by calling them at (850) 487-3278 or at their toll free number 1-888-788-9216.

• Private Health Insurance Policy – health insurance providers sometimes assist the purchase of medical and mobility devices like stair lifts. Hence, check with your health insurance provider if they give refunds or reimbursements on stair lift installation cost.

• Financing options offered by Miami stair lifts suppliers – most stair lift companies have financing options to help their clients afford the stair lift service. You can also ask them if they have reconditioned or used stair lifts as these are more affordable.


How to Arrange for a Stair Lift Service in Miami


Asking for a Miami stair lifts service is relatively simple. Contact a stair lift company for a quotation. Usually, they will visit you at your home to assess your specific needs. They will then furnish you with a formal stair lift quote. Verifying your service may involve paying an initial deposit before they install the stair lift in your home.


Where to Book a Stair Lift Service in Miami


Most of Miami stair lifts providers install and service the stair lift they sell. Check out some of them.

• Preferred Residential Elevators – located in Miami, FL, with phone number (786)306-7744 and email address preferredelevators@gmail.com.

• Mobility Express – located at 413 W Hallandale Beach Blvd, Halladale, FL, with contact number (954) 457-7433, and email mobilityunlimited@hotmail.com.

• Broward Elevator & Lift – situated at 5813 North Andrews Way, Fort Lauderdale, FL, with telephone number (954) 491-8161 and email address info@browardelevator.com.

• Sunset Mobility – their office is located at 8415 SW 129 Terrace, Miami, FL, with landline number (305) 234-0071 and email address info@sunsetmobility.com.


↑ Top