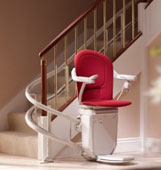 Long Beach Stair Lifts
A stair lift system is a priceless tool for people with limited mobility. So if you're planning to install a stair lift in your Long Beach home, there are plenty of Long Beach stair lifts suppliers ready to help you.

One of the first things to consider is the cost. The cost of stair lift service is influenced by several factors such as the brand name, length and type. It may cost even more if you want comprehensive coverage on your warranty. Long Beach stair lifts providers can help you make the stair lift service easier on the budget. Also, there are some other ways to finance your stair lift service in Long Beach.


Funding your Stair Lift Service in Long Beach


• Look for loan programs and grants for home upgrades. Contact the Bureau of Neighborhood Services in Long Beach at (562) 570-7409 and apply for CDBG program which provide financial assistance for home upgrades and modifications. Financial assistance for home rehabilitation is also available for seniors. Call California Department of Aging at (916) 419-7500 for further details.

• Check assistive technology programs. This is another viable source to help you finance the stair lift purchase because they offer grants and financial loan programs to help people with disabilities acquire assistive technology devices. Contact Disabled Resources Center in Long Beach, CA at (562) 427-1000, or email them at info@drcinc.org for details on how to qualify.

• Private health insurance. Although stair lift purchase is not covered by Medicare, your private health insurance may shoulder a portion of the cost. Talk to your health insurance agent about this.

• Ask your Long Beach stair lifts supplier if they offer financing options. Most companies offer payment plans to accommodate their client's budget. You might as well ask if reconditioned or used stair lifts are available.


Arranging a Stair Lift Service in Long Beach


Call Long Beach stair lifts companies for free home evaluation. Then, they will furnish you with formal quotation for your stair lift service based on your unique needs. Ordering your stair lift service may mean paying a deposit and your stair lift will be installed right away.


Where to Book your Stair Lift Service in Long Beach


You will find a number of companies providing stair lifts systems to the residents of Long Beach. Their services are not only restricted to stair lift installation but they also provide repair and maintenance for the stair lifts they sell.

• McKinley Elevator Corporation – premier distributor of home accessibility products and elevators in Nevada and California. They also provide service and maintenance on their products including stair lifts. You may visit their office 17611 Armstrong Avenue, Irvine, CA or call them over 1-888-257-5576 (toll-free).

• OC Stairlifts – stair lift specialists that sell, install and repair the stair lifts they sell. They even offer a wide range of stair lifts from different manufacturers to suit everyone's budget. Their office is located at 10529 Ellis Avenue, Fountain Valley, CA, and their toll free number 1-888-845-4387.

• Mac's Lift Gate – they service and repair a wide range of mobility products like wheelchair lifts and stair lifts, as well as do complete conversions to adapt to the needs of driving handicaps. They hold office at 2715 Seaboard Lane, Long Beach, CA, with telephone numbers 1-800-795-6227 (toll free), (562) 634-5962, and email info@southweststairlift.com.

With Long Beach stair lifts installed into your home, going up and down the different levels is made easier.


↑ Top